Sesame Street's 36th season begins April 4
36th season features "Healthy Moments" with top celebrities plus parody segments including 'Desperate Houseplants' and 'Grouch Eye for the Nice Guy'
Courtesy of Sesame Workshop
February 10, 2005
For 36 years, Sesame Street has sought to meet the critical needs of children while preparing them for school and for life.
This season premieres April 4 on PBS KIDS (check local listings). In addition to literacy, numeracy, and science, Sesame Street, the world's largest informal educator of children, will tackle an issue facing many families today: children's health. The new season features a new curriculum designed to address the importance of establishing an early foundation of healthy habits.
Muppets Donald Grump and Donald Trump meet in a Sesame Street parody of "The Apprentice".
Sesame Street's newest curriculum is part of a larger Sesame Workshop company-wide initiative, "Healthy Habits for Life," created in response to the growing crisis of childhood obesity among children. The preschool years are a crucial time in children's lives to foster healthy habits. Recent data reflect both the immediate and long-term consequences of poor dietary behaviors. Tackling the critical issues of health and well being, Sesame Workshop continues to set the benchmark in educational television with Sesame Street storylines that guide preschoolers and their caregivers through lessons related to healthy eating, the importance of active play and other key activities such as hygiene and rest.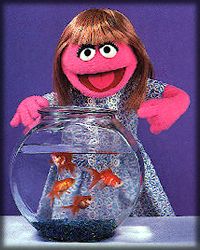 "It was particularly important for us when dealing with a topic such as health to choose child relevant issues such as trying new healthy foods, and simple exercises and make them exciting and attractive," said Dr. Lewis Bernstein, Executive Producer of Sesame Street. "As always with Sesame Street, the shows are written with humor and messages to entertain both children and adults. In this fit and fun season, we also give parents and caregivers the tools to help them extend these health messages into their homes and daily routines."
"There ¡s a real need to educate young people, and their caregivers, about healthy lifestyles," adds Rosemarie Truglio, PhD, Vice President Education and Research, Sesame Workshop. "Our goal is to lay a strong foundation for healthy habits in order to put children on a positive trajectory for a healthy life, so that healthy living becomes a normal, everyday experience. Who better to guide preschoolers towards a healthier life than Elmo, Oscar, Big Bird and the rest of the gang on Sesame Street?"
At the top of each episode, well-known figures in entertainment, sports, music and science including Alicia Keys, Joe Torre, Alison Krauss, Buzz Aldrin, Shirley Jones, Richard Kind and Dominique Dawes share a "Healthy Moment." For example:
*Alicia Keys teaches Elmo the benefits of moving your body fast or slow;
*Yankee's Joe Torre informs Elmo and Rosita that playing sports is a fun way
to stay healthy;
*and Buzz Aldrin shares the importance of food for energy to Telly.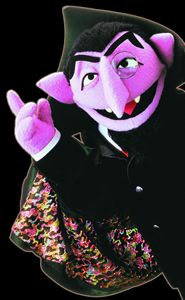 Along with the "Healthy Moments," the new season will feature all-new Muppet "street" scenes, new animations and original live-action films that all tout activities and behaviors that are good for you. Storylines include: "The Healthy Foods Name Game," hosted by Mr. Healthy Foods, Elmo must find four healthy foods of various colors on Sesame Street before the mouse can climb to the top of the refrigerator; and "American Fruit Stand," Sesame's take on the 50s variety series that features a singing Miles rhapsodizing about the nutritional benefits of fruits and vegetables. Other segments include a song entitled, "A Cookie is a Sometimes Food," where Hoots the Owl explains that there are anytime foods and sometimes foods: cookies are foods that you can eat sometimes, but fruits are delicious and healthy anytime! Additionally, every other show will feature a "Health Module;" a cluster of four segments related to health, exercise and nutrition.
New animations that address the healthy habits curriculum include: "Colorful Carrots," a song about the different ways you can eat them and how they are good for the body; and "TJ: Fruit Snack Samba," featuring TJ with his dog Bernie, who sing about choosing fruits as a healthy "anytime" snack. Original live-action films that depict the healthy habits curriculum include "Make Your Own Sundae Sunday," featuring two boys who make a low-fat sundae topped with lots of healthy fruit!
In addition to the core curriculum, Sesame Street continues to introduce preschoolers to other cultures with all-new "Global Grover" segments. This season, Grover travels to Bangladesh where he learns about fishing and toy making; to England to find out about a new sport called cricket; Paris, where he shops in a French market for healthy items; and to the Netherlands, where Grover discovers that lots of people ride their bikes to get around the city.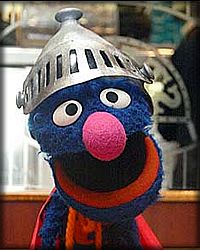 New parodies, that take their cue from the world of pop culture, include: "Desperate Houseplants;" "Grouch Eye for the Nice Guy;" "Chasing the Cheese," with a new Muppet created in the likeness of sportscaster Chris Berman; "24," based on the TV series of the same name; "Cookie Monster: Food Investigator," a parody of Dragnet; and the series introduces Donald Grump, a Muppet who looks suspiciously like one of America's real estate moguls.
Season 36 will also feature five new "Elmo's World" segments where Elmo will be thinking about Jumping, Cameras, Skin, School and Cats. Additionally, there will be a "Spanish Moment of the Day," an expansion of the "Spanish Word of the Day" that will focus on Latino culture.
Season 36 of Sesame Street is funded in part by a Ready To Learn, No Child Left Behind grant from the U.S. Department of Education through the Public Broadcasting Service and the Corporation for Public Broadcasting, Public Television Viewers and PBS. Sesame Street is underwritten in part by Beaches Family Resorts and McDonald's Corporation.
Sesame Workshop announced the multi-year, company-wide initiative, "Healthy Habits for Life," in May 2004 on Capitol Hill with the support of Senate Majority Leader Bill Frist and Senator Wyden. Featuring a coalition of partners and an advisory board of health, nutrition, fitness and education experts, the program was created to develop and distribute multi-media, age-appropriate content targeted to preschoolers and their caregivers; empowering them with knowledge and positive attitudes about healthy habits.
The components of the campaign developed directly for children are under the umbrella of "Happy, Healthy, Monsters." In addition to the season's curriculum, the initiative includes a new line of home videos, book titles, workbooks and interactive media that use the loveable Sesame Street characters to teach these important lessons. Happy,Healthy, Monsters, the home video, released on February 1, 2005, features Grover working out and eating right. In addition, Sesame Workshop has announced a partnership with Thinkwell Design and Production to create Sesame Street Presents: The Body; a museum exhibit that brings the familiar neighborhood of Sesame Street to life and invites young people to explore their world and learn about the human body and how it works. The exhibit, which will tour the country until 2010, will launch at the Arizona Science Center on May 14, 2005.

MORE SESAME NEWS

• Sesame Street Season 45 premieres Monday September 15
• Elmo Muppeteer Kevin Clash resigns from Sesame Street
• Kevin Clash takes leave from Sesame Street
• Sesame Street to air hurricane special Friday November 9
• Sesame Street Old School Volume 3 coming to DVD November 6
• Sesame Street Season 43 begins September 24 on PBS
• Fan support essential for production to begin on "I Am Big Bird"
• "I Am Big Bird" Caroll Spinney documentary in development