JHC may produce more Fraggle Rock
By Phillip Chapman
January 13, 2005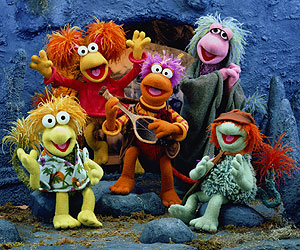 In an article published in this week's Newsweek, it is revealed that the Jim Henson Company may have new Fraggle productions in store.
"Henson co-CEO Brian Henson says the studio's now considering filming new "Fraggle" material."
Time will tell whether or not the "material" is a new Fraggle series (either with puppets or CGI animation) or if it just means the Fraggle characters will do some appearances or promotional material in the coming year.
The story also mentions the new Fraggle Rock DVD's which are being released as a direct result of fan support. A special thanks is given to devoted UK fan Warrick Brownlow for his Fraggle Rock DVD petition site which is currently at over 30,000 signatures.
While not officially announced by HIT Entertainment, multiple sources have confirmed that HIT is preparing to release Fraggle Rock Season 1 on DVD this fall.

MORE FRAGGLE NEWS

• Fraggles return for Ben Folds Five video
• Fraggle Rock returns to US TV on The Hub beginning October 10
• Fraggle Rock "Scared Silly" DVD debuts September 14
• "Wembley's Egg Surprise" arrives on DVD February 9
• Fraggle Season 4 and more Fraggles coming to DVD
• "The Doozers" preschool series under development
• HIT announces Fraggle Rock Complete Series DVD Collection
• Red Fraggle live at Comic Con 2008