Joe Raposo honored in new children's book
Courtesy of the Herald News
September 18, 2004
Children all over the world relate to Joe Raposo's music, and now Odete Amarelo and Gilda Arruda are hoping their new book will inspire children to emulate Raposo's success.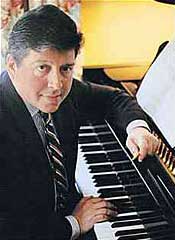 Amarelo and Arruda are the authors of the children's book "A Boy and his Music." They will present a copy to Raposo's sons, Nicholas and Joseph, today during a tribute to the late Grammy Award-winning composer being held as part of the fourth annual Fall River Festival of the Arts.
A Fall River native and graduate of B.M.C. Durfee High School and Harvard University, Raposo wrote music for children's TV staple "Sesame Street" and for Frank Sinatra, Barbra Streisand, Woody Allen, Ray Charles and other singers.
Amarelo is parent/community liaison for the Fall River school system's Magnet Education program. Arruda is an author and columnist for the Portuguese weekly newspaper O Jornal.
Their 18-page book is in Portuguese and English and it is written for children from kindergarten through Grade 2. The color illustrations are by Josette Fernandes.
"It's a bit of information on Joe Raposo and it also takes a look at local heroes," Amarelo said.
She said she and Arruda want to bring their message into classrooms so that Portuguese-American children and other children will see that they, too, can succeed in life. Raposo was the son of Portuguese immigrants.
"It's about time we started sharing our heroes with our children, in print," Amarelo said. "I'm thrilled with the book."
She and Arruda are already planning other versions of the book for middle and high school students.
"Sesame Street has incredible connections with children all over the world," Amarelo said. "Children can identify so well with it. Our intention was to honor Joe Raposo, and the festival was a perfect opportunity to do it," Amarelo said.
Raposo and some children of the world are characters in the book.
Amarelo said she and Arruda will have more copies printed for the Fall River schools and for Portuguese community schools around the world. She said the Portuguese Embassy in Washington, D.C., is very excited about the book and has offered her and Arruda grants to print more copies.
Raposo, whose father was also a gifted musician, died in 1989.

MORE SESAME NEWS

• Sesame Street Season 45 premieres Monday September 15
• Elmo Muppeteer Kevin Clash resigns from Sesame Street
• Kevin Clash takes leave from Sesame Street
• Sesame Street to air hurricane special Friday November 9
• Sesame Street Old School Volume 3 coming to DVD November 6
• Sesame Street Season 43 begins September 24 on PBS
• Fan support essential for production to begin on "I Am Big Bird"
• "I Am Big Bird" Caroll Spinney documentary in development