Sesame Muppets to appear on NBC's West Wing in March
Sesame Street Muppets to appear on NBC prime time drama March 3 at 9 pm ET on NBC
Courtesy of Zap2it.comf
February 12, 2004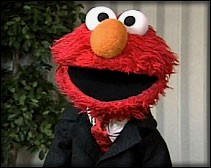 Elmo could meet Leo.
Zoe the Muppet could meet Zoey Bartlett.
Somebody, apparently, has told the cast of "Sesame Street" how to get to Pennsylvania Avenue. Several of "Sesame Street's" most popular residents are about to visit television's most popular political drama when Big Bird, Elmo, Zoe and Rosita guest star on "The West Wing."
The Wednesday, March 3 cameos will mark the first time that these Muppets have guest starred on a prime time series.
In the episode, President Bartlett (Martin Sheen) enlists C.J. (Allison Janney) to try to improve the First Lady's (Stockard Channing) image. As a solution, the First Lady films a public service announcement where she gives Elmo a checkup.
If this crossover is successful, perhaps The Count will be called into the Oval Office to help out next time there's a key vote in the House.
"One Republican Senator crossing party lines... Ah-hah-hah," he might say.
This year marks the 35th anniversary of "Sesame Street."

MORE SESAME NEWS

• Sesame Street Season 45 premieres Monday September 15
• Elmo Muppeteer Kevin Clash resigns from Sesame Street
• Kevin Clash takes leave from Sesame Street
• Sesame Street to air hurricane special Friday November 9
• Sesame Street Old School Volume 3 coming to DVD November 6
• Sesame Street Season 43 begins September 24 on PBS
• Fan support essential for production to begin on "I Am Big Bird"
• "I Am Big Bird" Caroll Spinney documentary in development