Muppets may be sold to highest bidder
Courtesy of the NY Post
December 18, 2000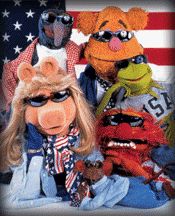 There's big trouble in Muppet land.
A sweeping probe and stock crash at the German company that bought the Muppets and Sesame Street characters earlier this year could send Kermit, Miss Piggy, Gonzo and the gang off to a new home, analysts said.
The ailing EM.TV is in a financial jam and its facing whopping investor lawsuits. The situation is so bad EM.TV may be forced to sell off the Muppets to the highest bidders.
Two weeks ago, EM.TV brought in $180 million by selling off the Sesame Street characters - including Elmo, Big Bird, the Cookie Monster - along with their global merchandising rights. Sesame Workshop continues to make Sesame Street shows for PBS.
The Munich-based EM.TV had controlled all the lovable characters after paying $680 million in February for Jim Henson Co., which created and owned characters of both the Muppets and Sesame Street.
Just weeks after buying Henson, however, EM.TV went overboard by paying another $1.6 billion for a 50 percent stake in Formula One racing, the most-watched motor sport it the world.
The two founding brothers who were running EM.TV - Tom and Florian Haffa - got in over their heads and weren't able to exploit the high-priced assets to make the profits they expected, analysts said.
"They didn't know what they were doing, and had some very fundamental operating problems," said Dan Cowan of SG Securities in London.
Tom Haffa, the CEO, has been hit with a half-dozen investor lawsuits and faces a probe by German regulators who accuse him of lying to investors and insider trading. His younger brother Florian, who was the CFO, stepped down.
EM.TV's core asset before the two high-profile purchases was a library of 25,000 half-hour cartoon and kid shows, mostly from America.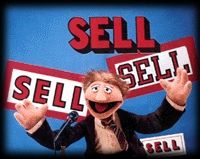 With the Muppets, the brothers envisioned a way to lock up German kids' television, which is the largest TV market in Europe and pays the highest prices in Europe for programming.
But the bottom fell out late this fall when EM.TV said it wouldn't come anywhere close to meeting its profit forecasts. The stock crashed from a high of about $120 a share to the $5 range.
EM.TV is trying to sell part of its stake in Formula One to German media mogul Leo Kirsch, and could reach a deal in January.
Analysts said that several European automakers - including BMW, Daimler-Chrysler, Fiat, Renault and Ferrari - may also be interested in buying the Formula One stake.
It's not clear if the Haffa brothers have had any offers for the Muppets.
"Whether they're going to be spun off is a discussion for Thomas Haffa," said Charles Rivkin, president and CEO of California-based Henson, which is continuing to crank out its award-winning Muppets shows despite its parent company's woes.
Rivkin said his biggest concern is that the Muppets would be split up and sold off in pieces.
"I'd be greatly surprised if we were to split up the Muppets," said Rivkin. "It just wouldn't make any sense to anybody to split up the Muppets family."