Remembering Jim Henson
"I don't know who Jim Henson is, but I've heard he has his hand in a lot of things around here."
- Kermit the Frog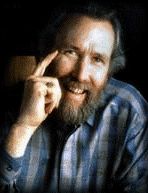 Jim Henson
September 24, 1936 - May 16, 1990
Exhausted and frustrated, I came home after a difficult day of publishing a yearbook. We were under a lot of pressure trying to complete our deadlines. As I entered my home that Wednesday (about 5:15 PM), I met my family. They asked me "if I had heard." They told me that Jim Henson had died of pneumonia in a hospital earlier that day. As was the case for all of us, his death came as such a surprise. He was only 53. If Jim would've gone to the hospital sooner, he might still be with us. However, it was his nature not to inconvenience anyone. He thought he had a simple head cold. By the time he realized it was serious, a severe bacterial infection had developed and it was already too late.
Even though I never met Jim Henson, it was a dream of mine to do so. I am sure many of you shared that same dream. However, whether you knew Jim personally or not, we all knew Jim. Parts of Jim shined through as Kermit, Rowlf, Ernie, the Swedish Chef, Dr. Teeth, Waldorf, Guy Smiley, and others. As a professional counselor, I have helped many people deal with issues of grief, and what has helped so many people, is realizing that even though someone they love is gone, that we have a choice whether or not to carry on their legacy.
So I challenge you, as you ponder and remember what Jim and his creations continue to mean to you, think about what you loved about Jim Henson. Take what you loved about him, and make it a part of your own life today. Whether it was Jim's vision to always try new things, his love for his family, or his perspective of what is "really important," Jim challenged us all. That challenge continues today... I hope that you accept.
- Phillip Chapman, Muppet Central Webmaster

Articles
Henson Leaves 'Extraordinary' Legacy to Kids
By Matt Roush, USA TODAY - May 17, 1990
Memories of Henson, the Muppet Man
By Susan Wloszczyna, USA TODAY - May 17, 1990
Henson's Great Capers Mixed Muppets and Magic
By Matt Roush, USA TODAY - May 17, 1990
Henson's Voice to Reign on 'Sesame'
By Peter Johnson, USA TODAY - May 18, 1990
By Susan Schindehette, PEOPLE MAGAZINE - June 18, 1990
By Stephanie Harrigan, LIFE MAGAZINE - July, 1990
Kermit the Frog will Speak Again
By Peter Johnson, USA TODAY - November 13, 1990
Muppets carry on in the Ultimate Henson Tribute
By Matt Roush, USA TODAY - November 20, 1990
One of the Top Twenty Artists and Entertainers
By James Collins, TIME MAGAZINE - May 31, 1998

Memories
Colleagues Remember Jim Henson
Floyd's Lament
By Jerry Nelson, Muppeteer - August 14, 1998