Colleagues Remember Jim Henson

Henson's Early Works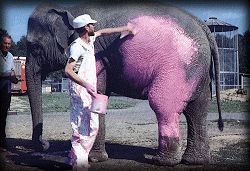 "Time Piece is about time and a man running. And I understand that about Jim... Jim was always running from time. There just was never enough time for Jim. There never would've been enough time, and I think he knew that really early... and Time Piece is about that."
- Jerry Juhl, Head Writer for the Muppets

Sesame Street
"Jim Henson belonged to the second generation. He came along after the pioneers had sort of said 'Well we've got this new medium, what are we going to do with it' and produced some nice things. And he came along and produced something far more enduring... I love Sesame Street to this day and I think that one of the wonderful things about the program is that it is accessible to children, but adults can watch it without upchucking into the kitchen sink."
- Ted Koppel, Broadcast Journalist
"There was a uniquely American voice that was very human at heart, but which had a very sly, satirical humor that poked fun at certain types of people or certain attitudes... I remember Cookie Monster running around the house yelling 'Cookies' because that was a certain aspect of people. So he was in a way using puppetry and television as an American author."
- Francis Ford Coppola, Filmmaker

The Muppet Show and Muppet Movies
"If you look at a lot of the pieces on the Muppet Show that came from Jim, there was a tremendous sweetness about them, and that's unique to Jim. Jim was never wimpy. He had a strength to his sweetness... that was great."
- Frank Oz, Muppeteer

"Underneath the zaniness, there was a kind of decency that the characters had about the world and to each other, and I think that was one of the legacy's that Jim left. At the core there was always this kind of sense of social values and decency."
- Jerry Juhl, Head Writer for the Muppets
"I'm sure Jim didn't think in terms of boundaries at all the way the rest of us do... 'We can't do that because...' 'We can't go there because...' There are always these fences that we seem to build around ourselves and our ideas. Jim had no fences."
- Jon Stone, Director/Writer

The "Darker" World of Jim Henson
"I think having started with the simplicity of the Muppets, and the utter, simple charm even in terms of color, harmonies, language, and everything was simple and beautiful. The size of it was right, it was Jim. But I think in him, and obviously by the films he produced, there was a darker, cavernous place he was busting to get too..."
- Maurice Sendak, Writer/Illustrator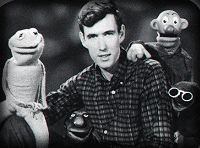 "His vision was a very simple one about life and about people and a very honest one. The vision of the world of Muppets, and the world of Dark Crystal, and the world of Labyrinth, and world, and world, and world. How many worlds can a guy have in his head? He had a lot, and they were still coming fast and furious."
- Brian Henson, President, The Jim Henson Company