Memories of Henson, the Muppet man
By Susan Wloszczyna
USA TODAY, LIFE, Page 1D
May 17, 1990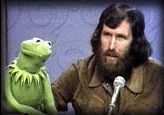 The Muppet man knew how to pull the strings of our hearts.
The death of Jim Henson on Wednesday has deprived a whole generation who grew up on Kermit the Frog and Big Bird of a wonderful, imaginative playmate.
Although shows like PBS' Sesame Street were aimed at children, adults delighted in his brand of fantasy - especially those who worked with him.
Jimmy Dean, whose '60s TV variety show gave Henson his first national exposure by featuring canine Rowlf: ''I fell in love with that dang dog. Rowlf worked so beautifully, you would believe it was him and totally forget about Jim Henson and Frank Oz working him.'' Dean still has a Rowlf in his office - underneath is a Muppet version of Henson.
Danny DeVito, who appeared on Sesame Street as a curator of a grouch museum: ''He helped unify the family through his creativity, imagination and energy.''
Shari Lewis, creator of Lamb Chop who did a PBS special with Henson: ''He raised puppeteering to an art form beyond people who just jiggle dolls. Lamb Chop and Kermit were very funny together. Kermit would get very rattled whenever she asked, 'So Kermie, how's the pig?' ''
Charles Grodin, who starred in the movie The Great Muppet Caper in 1981 and NBC's recent Muppets at Walt Disney World special: ''Ironically, I just got a letter from him this morning. It was typical of him, very generous and complimentary. He had the sensibility of Kermit - sweet, kind and sensitive.''
Fred Rogers, host of PBS' Mr. Rogers' Neighborhood: ''He was a consummate puppeteer and an enormous help to public television. He was able to communicate playfulness to children.''
Referring to Sesame Street composer Joe Raposo, who died last year, Rogers added: ''I just imagine Joe and Jim in heaven singing It's Not Easy Bein' Green.''