Henson's voice to reign on 'Sesame'
By Peter Johnson
USA TODAY, LIFE, Page 1D
May 18, 1990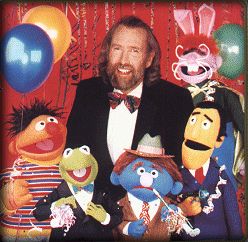 Kermit the Frog and Ernie will live - in repeats - on Sesame Street, but the show won't tell young viewers of the death of their voice, Jim Henson.
''My gut feeling is nobody can fill those shoes,'' executive producer Dulcy Singer said, adding that there are no plans to have someone else speak for the two characters on Sesame.
However, Disney, which bought Henson's company, said Thursday no decision had been made on who'll speak for Kermit and Ernie in projects outside Sesame Street.
Henson died suddenly Wednesday in New York of multi-organ failure brought on by complications from pneumonia. He became ill on a visit to his father in North Carolina.
Henson had requested no one wear black to his funeral, at noon Monday at Cathedral of St. John the Divine in New York City, ''in support of joy and life,'' his office said.
In 1982, actor Will Lee, who played Street's kindly shopkeeper Mr. Hooper, died. The next season, kids were told about Mr. Hooper's death.
But Singer said viewers won't hear of Henson's death since they'll still see Kermit and Ernie in repeat skits that will be added to new shows.