Kermit the Frog will speak again
By Peter Johnson
USA TODAY, LIFE, Page 1D
November 13, 1990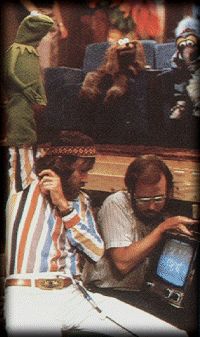 Kermit the Frog will live on, with someone else's voice.
Henson Associates said Monday that Kermit will be among the characters appearing in The Muppets Celebrate Jim Henson on CBS Nov. 21.
Since the May death of Jim Henson, who created Kermit and supplied his voice, it's been unclear whether the frog would be heard from again, outside of reruns and videos.
As yet to be decided, said Henson spokeswoman Susan Berry, is a permanent voice replacement for Henson.
''When Jim was alive, he said if anything happened to him, Kermit must go on,'' Henson's widow, Jane, told TV Guide in its Nov. 17 issue. ''Because of Kermit's significant place, Jim had essentially chosen who he thought could do it. But we don't want to say who it is before the show.''
It's not clear whether the voice will imitate Henson's Kermit or try something new - although in the CBS special the voice will imitate Henson's.
The amiable amphibian has been a Muppet mainstay for 35 years.