Muppets carry on in the ultimate Henson tribute
By Matt Roush
USA TODAY, LIFE, Page 8D
November 20, 1990
As the Muppets gather around a crowded set to read fan letters of mournful tribute to their late leader Jim Henson - part of the touching finale to Wednesday's Henson celebration special on CBS (8 p.m. EST/PST) - you might expect a solemn mood.
Not exactly.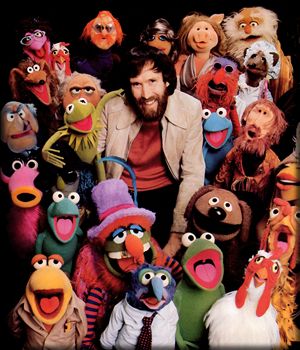 Miss Piggy - actually Frank Oz, Henson's partner of more than 25 years - gets laughs by reacting testily to a cue from director/producer Don Mischer: ''I know it, Don. I'm preparing!'' she squeals, while Oz mutters about Piggy's weight in her sequined gown.
''Hey, Dave, you should grow a beard again!'' shouts a fellow Muppeteer to Dave Goelz, who holds Gonzo above his clean-shaven face. All eyes are turned to a TV monitor, endlessly playing 35 years worth of classic Muppet and Henson footage (including some of a shaggier Goelz) - electronic tribute to the genius of Henson and his loyal band of followers.
''It's history, like having your life played before your eyes,'' says Richard Hunt (Scooter), who describes the taping as ''a time for retrospection. ... a process of grieving for a friend (who died suddenly in May of pneumonia) and also for a way of life that for some of us has been continuous for 20 years. All of a sudden, your life is completely disrupted.
''We've been spoiled. We were a small group of specialized talent that were needed and worked continuously for a long time. Now the focal point and the driving force is gone ... and there is an element of some sort of transition, how you gonna do it?''
The answer is as simple as it always was: Work.
''When we're down there on the floor, there is that aspect missing, that one character and that one sense of humor missing, but the work feels OK. It's comfortable,'' says Steve Whitmire (Rizzo the Rat).
Many performers, as they wait to start work on the last day of taping Sunday, feel it's as if Henson's just somewhere else - in London, Toronto, as he so often was. They wonder if Jim would find what they're doing funny and have become more self-critical.
''I'm always startled when I realize he won't be back. That's when it hurts,'' says Goelz.
Jerry Nelson, a longtime Muppeteer whose characters include frogling Robin and Ma Bear, remembers being affected at the first read-through of the fan letters. ''That brought home what we're missing, and what we're missing obviously is Jim. But more than that, it's a family gathering, a sort of regrouping and looking to each other in a way we hadn't done before.''
The feeling Sunday is that of an early Thanksgiving family reunion: raucous camaraderie as they lunch on lasagna, hearty laughter as they discuss the rigorous joys of Muppetry.
They speak of being ''quietly proud'' of their craft, working in anonymity as their characters became world superstars.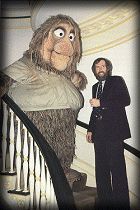 They take comfort in knowing they do their jobs well, remembering how long it took to learn the technical skills so the emotional flamboyance could come through. Just as important was meshing one's own personality with a group of vociferous cutups. None of this is likely to change, even as a merger with the Disney company comes closer to reality.
Oz, who directs films (now making What About Bob? with Bill Murray) when not playing Fozzie Bear or Piggy, says to return to the fold is ''to come back to my family. I love it. ... Nothing has changed except that I'm doing it without my best friend.
'You look at all these people in the room and most of them have been handpicked by Jim over the years. Jim was a great harvester of people, and even though Jim's not here... these are the same people that Jim trusted and chose.''
The show must go on, and it's comforting to know it can, and will, even without Jim.