Henson's great capers mixed Muppets and magic
By Matt Roush
USA TODAY, LIFE, Page 5D
May 17, 1990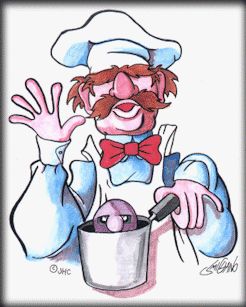 Kermit the Frog has lost his alter ego.
And a TV generation that grew up learning life lessons from Sesame Street and grooving on The Muppet Show's puppet vaudeville has lost its friendly and wise mentor.
Muppet mastermind and guiding light Jim Henson's shockingly sudden death early Wednesday morning at 53 left fans and associates stunned and bereft - including those at the Walt Disney Co., which purchased his company last August in a deal believed to be worth at least $100 million.
''He was our era's Charlie Chaplin, Mae West, W.C. Fields and the Marx Brothers - and indeed he drew from all of them to create a new art form that influenced popular culture around the world. ...We are grief-stricken,'' said Joan Ganz Cooney, chairman and CEO of Children's Television Workshop. In 1969, CTW and Henson came to national prominence, teaming to revolutionize children's TV with Sesame Street.
Henson followed with The Muppet Show (1976-81), a savvy, for-all-ages entertainment rejected by the networks only to become a smash world hit in syndication. It brought him financial autonomy and the freedom to make feature films.
His was an art - embodied by warmer-than-life characters of felt, foam and fancy, from Big Bird and Cookie Monster to Miss Piggy and Oscar the Grouch - that transcended generations as it embraced them all, with simplicity and humanity, with wit and parody.
He also continued toying with his craft, using music-video techniques to stunning effect in his Emmy-winning Storyteller series for NBC. Last year's Jim Henson Hour, however, was a ratings failure.
''I had this terrible image when I heard that he died, of all his characters in mourning,'' said Peggy Charren, head of Action for Children's Television. ''I think I will have to watch Sesame Street this afternoon to convince myself that all is well with Kermit, Big Bird, Bert and Ernie.''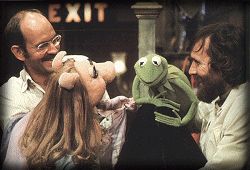 Longtime fan Sally Denison, 30, an executive secretary from Chicago, says, ''I believe in the Muppets, like they're real people to me, especially Kermit and Miss Piggy.'' She had a Rowlf dog puppet as a child and has continued to collect pig-and-frog artifacts. ''I hope they'll continue with the characters, and I still hope Kermit and Miss Piggy will get together some day.''
Colleagues, many not giving interviews at the request of Henson's family, have often described the man as slow to anger, quick to praise, tireless, funny and, above all, creative.
In a 1987 interview with USA TODAY, coinciding with the first airing of the now-perennial Muppet Family Christmas special, the low-key Henson said of himself: ''I tend to avoid confrontation, and I tend to push and only see the good aspects of a particular thing. I'm a very human person.''
This ''human person'' was born Sept. 24, 1936, in Greenville, Miss. He created the Muppets in the mid-'50s, introducing them - including the first Kermit, cut from his mother's old spring coat - to TV audiences in programs on Washington, D.C.'s WRC-TV.
There, he met his wife Jane, a fellow puppeteer who dropped out to raise their five children, all of whom have contributed to Muppet projects. He won a local Emmy for WRC's five-minute, late-night Sam and Friends, which led to national appearances on shows like The Jimmy Dean Show in the '60s and eventually, his union with CTW.
''I think he was Kermit and Kermit was Jim Henson,'' says Charren. ''It was Kermit who cared about all the other Muppets and about the state of the world and the audience, Kermit who sang about the problems of being green.''
''He took our breath away as a talent - and provided laughter and love as a friend,'' said Cooney. Through Sesame Street's 20 years, Henson continued contributing 50 or so original pieces a year.
Ironically, Henson appeared on TV Wednesday night, in a PBS special saluting another late Sesame Street visionary: pop songwriter Joe Raposo, whose soulful Bein' Green was Kermit's signature anthem.