Muppeteer Noel MacNeal writes puppet making book for young and old
Courtesy of Workman Press
December 15, 2010
It's the Swiss Army knife of activity books: how to make puppets anywhere, in ten minutes or less, using everyday materials. Parents and kids can learn how to make 30 puppets using socks, paper bags, napkins, and the most important tools of all — your two hands.
10-Minute Puppets is filled with imaginative ideas, energy, and the pure, childlike pleasure of turning objects into characters. With full-color illustrations throughout, the book has step-by-step instructions for each puppet, pages of puppet parts and bodies to cut out and use, and tips on how to create a simple puppet theater.
"What I think fans of Muppet Central will enjoy is that throughout the book are quotes and anecdotes from my colleagues in 'puppetdom' such as Frank Oz, Jerry Nelson (who wrote the forward), Steve Whitmire, Dave Goelz, Fran Brill and many more." says MacNeal. "They speak about the magic of puppets and what it means to them how to create character, tell a good story, and more. I asked them as a way to help introduce to anyone the true magic and creativity of puppets."
Order your own copy of 10-Minute Puppets today. Free puppet template downloads are available at NoelMacNeal.com.

ABOUT NOEL MACNEAL
Noel MacNeal launched his career performing on PBS's award-winning Sesame Street, where he honed his craft with puppetry legends Jim Henson and Frank Oz. He's been a performer on Sesame Street for over twenty years, training puppeteers in Japan, Mexico, South Africa, and, most recently, Jordan, Palestine, and India for the Sesame Workshop co-productions of Sesame Street. Noel is also a regular performer with the classic Muppets of The Muppet Show.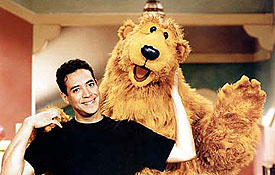 For the past decade, Noel has been the spirit and voice of the gentle and lovable star of the Daytime Emmy Award-winning series Disney's Bear in the Big Blue House and the Disney Channel morning series Breakfast With Bear. In 2003, Noel received a Daytime Emmy Nomination as Outstanding Performer in a Children's Series. Noel is also a television writer and director of many shows on PBS, PBS Kids Sprout and Nickelodeon.
Noel lives in Brooklyn with his wife, Susan, and five-year-old son, Matthew (a budding puppeteer whose favorite characters to perform are "Tiny Hand," "Little Bird," and "Tiny Spider"), and is currently the resident "Puppet Guy" for Mattie's preschool, performing and showing children (and their teachers) how to make their own puppets.

MORE BEAR NEWS

• Muppeteer Noel MacNeal writes puppet making book
• Disney plans to revive Bear for 10th anniversary
• New Bear in the Big Blue House episodes to air in April
• Breakfast with Bear begins June 20
• Four new Bear DVD's coming in June
• New series, Breakfast with Bear, to air in June
• Disney completes acquisition of the Muppets and Bear in the Big Blue House
• Disney buys Jim Henson's Muppets and Bear