Breakfast with Bear begins June 20
By Greg James
June 6, 2005
"Breakfast with Bear", the all new fun-filled hour for preschoolers, will make its Disney Channel debut on Monday, June 20, 2005 at 7 am. The programming block is hosted by Bear, the 7-foot tall star of the Emmy Award-winning series "Bear in the Big Blue House" as he pays visits to real homes across the USA.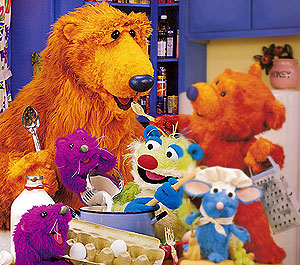 Each weekday morning, Bear will be seen greeting a preschooler and his or her family, interacting with them as they go about the daily routines children age 2-5 are mastering, including brushing teeth, making wardrobe choices and getting dressed, tying shoes, stretching, getting the body moving and eating a healthy breakfast. Throughout Bear's morning events, viewers will also be treated to periodic short cartoons, songs, activities, episodelets, and other entertaining (and education) moments.
The "Breakfast with Bear" hour will premiere on Monday, June 20, 2005 during the Disney Channel's learning-based programming block for preschoolers known as Playhouse Disney. The daily programming block will air on Playhouse Disney from 7:00-8:00 am each morning (check local listings for details).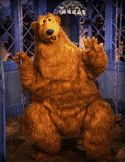 "Breakfast with Bear" is the first new entertainment initiative launched by the Muppet Holding Company since acquiring the characters (along with the Muppets) early last year. Along with "Breakfast with Bear", the brand will be supported with additional initiatives, including Internet content, live theatre shows, and a whole new rollout of Bear related merchandise.
"Breakfast with Bear" is produced by Rick Fernandes and Hold the Onions Productions. Bear in the Big Blue House was created by Mitchell Kreigman and produced by Jim Henson Productions.

MORE BEAR NEWS

• Muppeteer Noel MacNeal writes puppet making book
• Disney plans to revive Bear for 10th anniversary
• New Bear in the Big Blue House episodes to air in April
• Breakfast with Bear begins June 20
• Four new Bear DVD's coming in June
• New series, Breakfast with Bear, to air in June
• Disney completes acquisition of the Muppets and Bear in the Big Blue House
• Disney buys Jim Henson's Muppets and Bear