New Bear in the Big Blue House episodes to air in April
The eight unaired Bear in the Big Blue House episodes will premiere during the week of April 24
By Phillip Chapman
April 14, 2006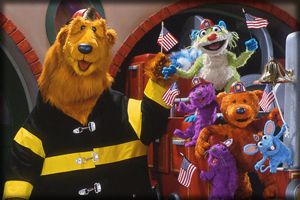 The fourth and final season of the acclaimed Henson series "Bear in the Big Blue House" began airing in September 2002. However until now, eight of the season's twenty-six episodes have not yet aired on The Disney Channel.
From Monday April 24 through Friday April 28, "Bear in the Big Blue House" will return to weekday Disney programming with these eight previously unaired episodes:
Monday April 24

"The View From You" - The class is given an assignment to show their point of view. Tutter's not quite sure what to do until he sees Treelo's art exhibit. All the mice at school cheer when they view Tutter's film project.

"To Clean Or Not To Clean" - Bear returns to the Big Blue House from a business trip for Bearcraft Tools to find that everything's a mess. Now Ojo and Treelo are missing their toys, Pip and Pop have been stuck in one spot playing an increasingly boring game of tag and Tutter's trapped in the cheese drawer.

Tuesday April 25

"To Clean Or Not To Clean" - Repeat from Monday.

"Great Ball Of Firefighters" - The furry residents of Woodland Valley look forward to the firehouse's inaugural fund-raiser ball. Bear prepares the refreshments with help from Pip and Pop, as Ojo gets ready to be swept off her feet like a character in a musical. Tutter, meanwhile, feels anxious about not knowing the new dance that's all the rage with the other mice.

Wednesday April 26

"Grandma Flutter's Birthday" - Tutter's trying to figure out what to get Grandma Flutter for her birthday. He finds, while shopping at the General Store, what kind of a wonderful life Grandma Flutter's had and that with age comes any number of terrific experiences.

"Tutter's First Sleepover" - Tutter invites the mice from school over for a sleepover. As Bear tries to keep everyone happy, comfortable, and secure in their "home away from home," Luke finds out that it's okay to go home from a sleepover if you really want to.

Thursday April 27

"The View From You" - Repeat from Monday.

"Volunteers of Woodland Valley" - When Bear suffers a sprained toe due to some inadvertent extreme skateboarding, Ojo, Treelo, Tutter, Pip and Pop lend a hand around Woodland Valley, volunteering to do Bear's volunteer work.

Friday April 28

"Let It Go" - Tutter overhears a conversation about the weather that leads to everyone worrying that Woodland Valley is sure to become a desert. In the end the rain comes, and everyone in the house ends up cuddled up under a blanket, safe and sound.

"This Is Your Life Bear" - Bear wins an all expense paid trip for himself and five of his friends. Tutter overhears part of a conversation where Bear says that he needs a vacation so everyone decides to show Bear how much they appreciate him.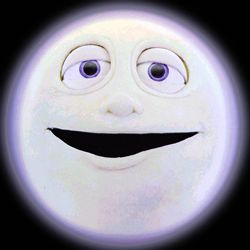 Each day, two episodes will air back-to-back and will begin at 6:30 am eastern, 5:30 am central on The Disney Channel.
Jim Henson's Bear in the Big Blue House features the world-famous seven-foot-tall Bear who loves to Cha Cha Cha, and all of his friends from Woodland Valley including Tutter (the industrious mouse), Treelo (the curious lemur), Pip and Pop (playful twin otters), Ojo (the young little girl bear), and Luna (the moon.).
Jim Henson's Bear in the Big Blue House was created by Mitchell Kriegman (It's a Big Big World, The Book of Pooh and Clarissa Explains it All) and is produced by Jim Henson Television. Mitchell Kriegman and Alex Rockwell are Executive Producers.

MORE BEAR NEWS

• Muppeteer Noel MacNeal writes puppet making book
• Disney plans to revive Bear for 10th anniversary
• New Bear in the Big Blue House episodes to air in April
• Breakfast with Bear begins June 20
• Four new Bear DVD's coming in June
• New series, Breakfast with Bear, to air in June
• Disney completes acquisition of the Muppets and Bear in the Big Blue House
• Disney buys Jim Henson's Muppets and Bear