Kermit to host "Extreme Makeover: Home Edition" April 9
Kermit the Frog fills in for Team Leader Ty Pennington on the April 9 edition of ABC's "Extreme Makeover: Home Edition."
Courtesy of PR Newswire
March 14, 2006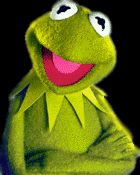 America's most loved amphibian, Kermit the Frog, will fill in for Team Leader Ty Pennington, while he lends a hand with hurricane relief in the Gulf States on the April 9 episode of "Extreme Makeover: Home Edition" airing at 8 p.m. Eastern on ABC.
No stranger to the small screen, Kermit the Frog shines in his guest-starring role as the project team leader. Kermit charms his way into the hearts of the design team and graciously works side-by-side with other volunteers to creative a more comfortable and enjoyable home for the Craft family of Hondo, Texas.
In this very special episode, Todd Craft, a high school sports coach who's been a constant inspiration to his community and his family, will receive the news that they will receive a beautiful and renovated home in a remarkable seven days.
In addition, Kermit is presenting the family with a brand new Ford Escape Hybrid. Fuel economy is very important to the Craft family since they count every penny. The Escape Hybrid can travel up to 500 miles in city driving on a single tank of gas. It actually doesn't use fuel when stopped in traffic or driving at low speeds by running in pure electric mode and gets an estimated 36 miles per gallon.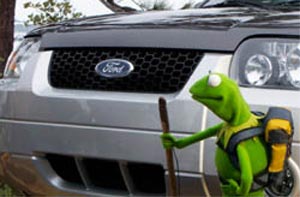 "Kermit and the Escape Hybrid are the ultimate green team," said Barry Redler, Ford SUV Group Marketing Manager. "The Escape Hybrid was the first SUV to offer the fuel savings of full-hybrid technology and is the most fuel-efficient SUV on Earth. This no-compromise SUV shows how easy it is being green and is the perfect fit for an active family like the Crafts."
Kermit debuted as the official "spokesfrog" for the Ford Escape Hybrid during this year's Super Bowl.
"Working with the 'Extreme Makeover: Home Edition' team was a dream come true," said Kermit the Frog. "I got to help the show's fantastic designers, builders and volunteers do something wonderful for the very deserving Craft family."

MORE MUPPET NEWS

• Muppets star in Toyota Super Bowl ad campaign
• Music Video: "All I Need is Love" with CeeLo Green and The Muppets
• Muppets on The Voice Tuesday November 27
• The Muppets Take Disney Store Manhattan November 27
• The Muppet Christmas Carol arrives on Blu-ray November 6
• Kermit and Miss Piggy on "Best in TV" ABC special September 18
• "Kermit's Party" viral videos from Bounty Paper Towels
• The Electric Mayhem on Jimmy Kimmel March 21
• Miss Piggy and Sharon Osbourne go head-to-head on The Talk