Kermit stars in ad for Ford during Super Bowl
Kermit's commerical for the Ford Escape Hybrid will air during the second quarter; Miss Piggy's new commercial will debut during pre-game ceremonies
Courtesy of Ford
January 31, 2006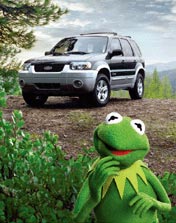 Kermit the Frog, celebrated actor, author, singer, journalist and expert on all things green, will appear in a new integrated marketing campaign for the Ford Escape Hybrid that will debut during the second quarter of Super Bowl XL on Feb. 5.
In the 30-second ad spot developed for Super Bowl XL by JWT Detroit, Ford's advertising agency of record, Kermit will encounter the Escape Hybrid – the world's first hybrid SUV – while exploring the great outdoors. The full story line will be kept secret until the Super Bowl.
"There's no better judge of what's green than Kermit the frog," said Cisco Codina, Group Vice President, North America Marketing, Sales and Service. "Ford is the hybrid leader among American car companies, and we're going to use platforms like the Super Bowl to make sure people understand that our commitment to design, safety and technology innovation is real – and on the market today. Kermit makes that message accessible to multiple generations of people all over the world."
Introduced in 2004, the Ford Escape Hybrid was America's first hybrid, the world's first hybrid SUV and it remains the most fuel-efficient SUV on the planet. It was named 2005 North American Truck of the Year at the North American International Auto Show in Detroit for combining traditional SUV versatility with the efficiency of hybrid technology.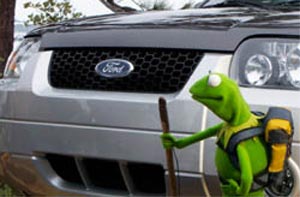 This behind-the-scenes image of Kermit the frog was taken during the filming of Kermit's new Ford Escape Hybrid television commercial, which will debut during the Super Bowl on February 5.
The Super Bowl commercial will kick off a broader campaign for the Escape Hybrid featuring Kermit. The campaign – which will consist of television, print, digital and outdoor advertising – will showcase Ford's commitment to technologies like hybrids that reduce air pollution, lessen America's dependence on foreign oil and save families money at the pump.
After the Super Bowl, Ford Escape Hybrid ads featuring Kermit will appear throughout the year, including on hit shows such as American Idol (Fox), CSI: Miami (CBS) and the Barbara Walters Academy Awards Special (ABC). Print ads will appear in influential automotive-enthusiast magazines, business publications, and newsweeklies. Digital advertising will appear on ESPN, MSN, America Online, and the Washington Post.
"Ford and Kermit are a match made in heaven; they're both American icons, both family-oriented and they're both green," said George S. Rogers, President and CEO, JWT Detroit. "Kermit the Frog is an absolute celebrity and we're thrilled to have him on board to tell the Escape Hybrid story."

MORE MUPPET NEWS

• Muppets star in Toyota Super Bowl ad campaign
• Music Video: "All I Need is Love" with CeeLo Green and The Muppets
• Muppets on The Voice Tuesday November 27
• The Muppets Take Disney Store Manhattan November 27
• The Muppet Christmas Carol arrives on Blu-ray November 6
• Kermit and Miss Piggy on "Best in TV" ABC special September 18
• "Kermit's Party" viral videos from Bounty Paper Towels
• The Electric Mayhem on Jimmy Kimmel March 21
• Miss Piggy and Sharon Osbourne go head-to-head on The Talk