Piggy and Jessica reunite for Pizza Hut and the Super Bowl
Commercial starring Miss Piggy and Jessica Simpson will air during the pre-game; Kermit's ad will air during the second quarter of the Super Bowl
By Greg James
January 26, 2006
Just in time for the Super Bowl, Miss Piggy is teaming up with Pizza Hut once again, along with Jessica Simpson. In the ad Simpson and Piggy don matching outfits to promote Pizza Hut's new "Cheesy Bites Pizza". The commercial also features a parody of Simpson's tune, "These Boots Are Made for Walkin' " with a new song, "These Bites Are Made for Poppin'."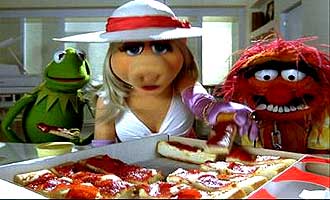 The commercial spot, which was taped last week in Los Angeles, will appear during the pre-game segment of Super Bowl XL, which will air on Sunday February 5, 2006 on ABC. The big game is expected to draw about 90 million viewers, and Super Bowl ads cost an estimated $2.5 million for a 30-second spot this year.
"The Muppets bring a wink and a smile to it," said Tom James, chief marketing officer for Pizza Hut. "It's pizza after all ... It's about fun and enjoyment."
The Muppets teamed up with Jessica Simpson in a 2004 Super Bowl ad promoting Pizza Hut's "Four-for-All pizza". In 2005, the Muppet gang appeared (Simpson-less) in a Super Bowl spot to push the new Pizza Hut "Dippin' Strips". Pizza Hut is once again excited to include the Muppets in their 2006 Super Bowl marketing campaign.

MORE MUPPET NEWS

• Muppets star in Toyota Super Bowl ad campaign
• Music Video: "All I Need is Love" with CeeLo Green and The Muppets
• Muppets on The Voice Tuesday November 27
• The Muppets Take Disney Store Manhattan November 27
• The Muppet Christmas Carol arrives on Blu-ray November 6
• Kermit and Miss Piggy on "Best in TV" ABC special September 18
• "Kermit's Party" viral videos from Bounty Paper Towels
• The Electric Mayhem on Jimmy Kimmel March 21
• Miss Piggy and Sharon Osbourne go head-to-head on The Talk