Disney moves Muppet movie to Thanksgiving 2011
The film was originally scheduled to be in theaters on Christmas next year
Courtesy of The Hollywood Reporter
December 8, 2010
Disney on Wednesday moved next year's scheduled theatrical release of The Muppets Movie from Christmas to Thanksgiving.
Now set for Wednesday, Nov. 23 instead of a previous Sunday, Dec. 25 slot, Muppets will be Disney's latest candidate to dominate the prime Turkey Day play period. The Burbank studio has done that will regular consistency, most recently with Nov. 22 opener Tangled, a $69 million grosser through the five-day Thanksgiving period.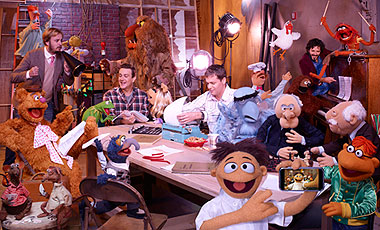 James Bobin (director), Jason Segel (co-writer/co-star), Nick Stoller (co-writer) and Bret McKenzie (composer) with the Muppets.
"Disney has had incredible success opening films over the Thanksgiving weekend, and thanks to Tangled, we have the top three Thanksgiving openers of all time," distribution topper Chuck Viane said.
Starring in the film along with the usual Muppets cast will be Jason Segel, Amy Adams, Chris Cooper and Rashida Jones. The movie also will feature cameos by Alan Arkin, Jean-Claude Van Damme, Billy Crystal and Wanda Sykes.
Now shooting in Los Angeles, Muppets was written by Segel and Nicholas Stoller and is directed by James Bobin.

MORE MUPPET NEWS

• Muppets star in Toyota Super Bowl ad campaign
• Music Video: "All I Need is Love" with CeeLo Green and The Muppets
• Muppets on The Voice Tuesday November 27
• The Muppets Take Disney Store Manhattan November 27
• The Muppet Christmas Carol arrives on Blu-ray November 6
• Kermit and Miss Piggy on "Best in TV" ABC special September 18
• "Kermit's Party" viral videos from Bounty Paper Towels
• The Electric Mayhem on Jimmy Kimmel March 21
• Miss Piggy and Sharon Osbourne go head-to-head on The Talk