Jason Segel to star as human lead in Muppet movie
Disney's new Muppet film has the working title "The Cheapest Muppet Movie Ever Made!"
Courtesy of The Hollywood Reporter
March 15, 2010
Jason Segel has found his rainbow connection with Disney's Muppets movie, signing to star as the human lead.
He also will join David Hoberman and Todd Lieberman of Mandeville Films/TV, the studio-based shingle behind last year's "The Proposal," as a producer on the project.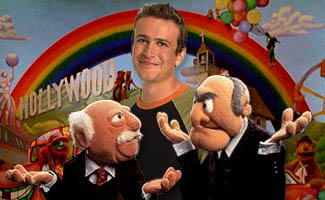 James Bobin is on board to direct the movie, the plot of which is under wraps. The TV show as well as some of the movies tended to have one key human actor with whom the Muppets associated on their adventures. It is known that Segel plays a man on a quest to find and reunite the Muppets.
The actor's coming aboard is a natural extension of the development process; he wrote the script with pal Nicholas Stoller.
Segel has been on a tear with feature work of late. He recently boarded the Cameron Diaz comedy "Bad Teacher" and last week signed to star with Ed Helms in the Duplass brothers' latest movie, "Jeff Who Lives at Home."

MORE MUPPET NEWS

• Muppets star in Toyota Super Bowl ad campaign
• Music Video: "All I Need is Love" with CeeLo Green and The Muppets
• Muppets on The Voice Tuesday November 27
• The Muppets Take Disney Store Manhattan November 27
• The Muppet Christmas Carol arrives on Blu-ray November 6
• Kermit and Miss Piggy on "Best in TV" ABC special September 18
• "Kermit's Party" viral videos from Bounty Paper Towels
• The Electric Mayhem on Jimmy Kimmel March 21
• Miss Piggy and Sharon Osbourne go head-to-head on The Talk