Pepe's first book reveals secrets of life, love and living large
Courtesy of Hyperion
October 17, 2008
He has the looks, he has the monies, he has the womens, and he definitely has the style. Who is he? He's Pepe the king Prawn. Never to be mislabeled a mere shrimp, Pepe has been a fan-favorite Muppet since his debut on Muppets Tonight in 1996 (not that he's aged a day). Now, Pepe is sharing his trademark, Spanish-accented advice with the world in It's Hard Out Here for a Shrimp: Life, Love, and Living Large (Hyperion; October 28, 2008; $16.95; Hardcover), by Pepe the King Prawn.
The book features Pepe's lively wisdom in chapters organized into all the most important aspects of life, including parties, relationships, careers, love, friendship, and miscellany (life doesn't always fall so cleanly into categories, okay). With a personality as big as his hair, the sneaky, spicy Pepe dishes out the secrets to living large like he spoons out salsa at one of his legendary fiestas.
In It's Hard Out Here for a Shrimp, Pepe – raconteur, entrepreneur, and suave schemer extraordinaire – shares choice tips such as:
The Secret of Success: If you believe in yourself, others will believe in you. And if they fall for that, you can sell them anything.
What to Say to the Womens: Let's go to exotic places and spend all of my monies, okay.
College Knowledge: It's not where you go to college, It's where you say you went college.
The Look: If you look good, you can be bad.
On Meditation: A deep spiritual experience or an excuse to take a nap. Either way, you win, okay.
Life & Death: I prefer Life. And I'm not just talking about the cereal. Although that's pretty good, too, okay.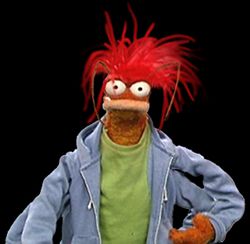 This hot and spicy ladies' prawn has all the answers. Where do you think James Bond got his moves? At last Pepe has put claws to keyboard to write the book everyone everywhere has been begging him to publish. A little guy with a big personality, Pepe – and his magnum opus – is a sure winner, not only with fans of the Muppets, but with readers everywhere. Complete with a charming introduction by Kermit the Frog, this will be the funniest and most original advice book on the shelves this fall and during the holiday season. Simply put, if you miss out on It's Hard Out Here for a Shrimp – you're toast, okay.
ABOUT THE AUTHOR
Pepe the King Prawn was born off the coast of Malaga, Spain. Discovered by a casting agent on a fishing boat, he debuted on Muppets Tonight in 1996, and has since become famous, successful, unavoidable, and a favorite of fans everywhere - especially the ladies, okay.

MORE MUPPET NEWS

• Muppets star in Toyota Super Bowl ad campaign
• Music Video: "All I Need is Love" with CeeLo Green and The Muppets
• Muppets on The Voice Tuesday November 27
• The Muppets Take Disney Store Manhattan November 27
• The Muppet Christmas Carol arrives on Blu-ray November 6
• Kermit and Miss Piggy on "Best in TV" ABC special September 18
• "Kermit's Party" viral videos from Bounty Paper Towels
• The Electric Mayhem on Jimmy Kimmel March 21
• Miss Piggy and Sharon Osbourne go head-to-head on The Talk