Muppets.com relaunches with Disney XD
New official Muppet site features exclusive videos, games, music and on-line content
By Greg James, Muppet Central
February 3, 2008
The Muppets have launched there brand-new website, full with tons of new videos and much more. The official website, located at Muppets.com, has gotten a major overhaul featuring brand-new Muppet videos.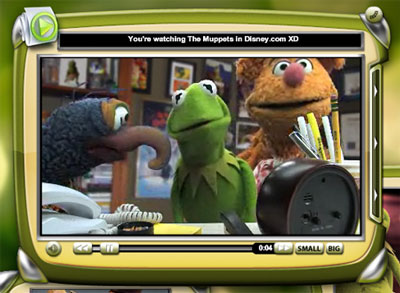 The site, part of the Disney XD network, is full of great Muppet material and mayhem. There is already more than 15-minutes of brand-new video content, plus you can enjoy clips from the Muppet Show DVDs, the Muppet New Years party and even listen to clips from the recent Muppet albums. There are photos, polls, gags and even games. If you register and log-in with an XD account you can get more connected with the site – creating your own playlists, storing things to your favorites, chatting with others, and even playing the multi-player Muppet games against other people.
And there is still more to come – Disney is planning to continue to add content and clips to the site. If fact, only 3 of the 7 "channels" are currently open – "The Muppets' Stage", "Kermit's Pad", and "Miss Piggy's Dressing Room" are up and running. New content will continue to be added to the existing channels, plus Fozzie, Gonzo, Pepe, and Animal are planning to have their own channels launch in the future as well.
So what are you waiting for? You can see Gonzo tap-dance on tapioca pudding and thumbtacks, meet Pepe's talking popsicle-stick, listen to Fozzie's stand-up, enjoy Rizzo and Pepe bouncing around on pogo sticks and watch Miss Piggy's Aerobic workout video. Go check out all the fun on this new, exciting and Muppetational website right now!

MORE MUPPET NEWS

• Muppets star in Toyota Super Bowl ad campaign
• Music Video: "All I Need is Love" with CeeLo Green and The Muppets
• Muppets on The Voice Tuesday November 27
• The Muppets Take Disney Store Manhattan November 27
• The Muppet Christmas Carol arrives on Blu-ray November 6
• Kermit and Miss Piggy on "Best in TV" ABC special September 18
• "Kermit's Party" viral videos from Bounty Paper Towels
• The Electric Mayhem on Jimmy Kimmel March 21
• Miss Piggy and Sharon Osbourne go head-to-head on The Talk