Star Wars Muppet action figures in development
New Muppet actions figures based on the Star Wars characters are scheduled for release in the fall of 2007
By Greg James, Muppet Central
May 28, 2007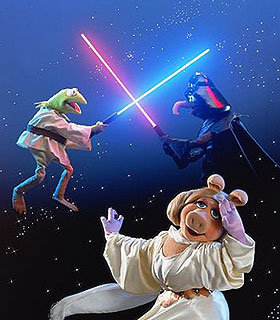 May 25 marked the 30th anniversary of Star Wars, and as part of the festivities several representatives from Disney's merchandising division took part in an exclusive panel discussion at the Star Wars fan convention "Celebration IV" in Los Angeles.
Their presentation covered the history and future of Disney's Star Wars cross-merchandising. Disney gave fans in attendance a "sneak peek" at a slue of new Disney Star Wars merchandise. And one of the many items show is sure to excite Muppet collectors.
Disney gave a glimpse of an upcoming series of action figures of Disney Characters dressed as Star Wars characters – such as Mickey Mouse as Luke Skywalker, Donald Duck as Han Solo or Goofy as Darth Vader. But one similar upcoming product they have planned is a Muppet Star Wars gift set which will feature six well-known Muppets as characters from the Star Wars saga.
The planned figures include Beaker as C-3PO, Fozzie Bear as Chewbacca, Miss Piggy as Princess Leia, Kermit the Frog as Luke Skywalker, Gonzo the Great as Darth Vader (or Dearth Nadir as known in the Muppet-universe) and Rizzo the Rat as Yoda. The panel at "Celebration IV" even shared some concept art for the figures.

This box set is scheduled for release later this year. The product will be sold exclusively at the Disney Theme parks' gift shops (the shops tied to the Star Tours theme ride). They may also become available through online retailers as well.

MORE MUPPET NEWS

• Muppets star in Toyota Super Bowl ad campaign
• Music Video: "All I Need is Love" with CeeLo Green and The Muppets
• Muppets on The Voice Tuesday November 27
• The Muppets Take Disney Store Manhattan November 27
• The Muppet Christmas Carol arrives on Blu-ray November 6
• Kermit and Miss Piggy on "Best in TV" ABC special September 18
• "Kermit's Party" viral videos from Bounty Paper Towels
• The Electric Mayhem on Jimmy Kimmel March 21
• Miss Piggy and Sharon Osbourne go head-to-head on The Talk