Animal puppet replica coming in 2007

Muppet drummer Animal is the second authentic replica. The Great Gonzo is scheduled to debut by the end of 2007 with Fozzie to follow in 2008.

By Greg James, Muppet Central
May 25, 2007

Last year fans rejoiced as Master Replicas Inc., an industry leader in movie and television prop replicas, released a top-quality Kermit the Frog "photo puppet". The Kermit replica is a top-notch display replica of the world's most famous Frog – produced using the original patterns and materials. The full-body doll is fully posable, highly detailed and skillfully crafted. Master Replicas is planning to continue their line of Muppet replicas with Animal who is planned for release later this year.

Master Replicas is proud to be able to present this first-ever authentic replica of an Animal photo puppet. Like the Kermit replica, Animal is created using the same patterns and similar materials as the original. Animal will be a fully posable replica with mouth expression, and movable eyelids; plus full articulation in neck, shoulders, elbows, wrists, hips, knees, ankles and fingers. The replica will also come with a custom display stand and numbered plaque. The Animal "photo puppet" will measure approximately 38" x 5" x 8.5". Just like Kermi this is not a functioning puppet, but rather a replica of the full-figure posers used for photo-shoots and displays.

The Animal replica is being held to a very limited edition production and will be strictly limited to 1,500 pieces worldwide (so be sure to pre-order your Animal Replica before they all get scooped up). With a price tag of approximately $399, this is a high-price collector's item. Given the quality and uniqueness of this item, it is surely worth the addition to any Muppet collection.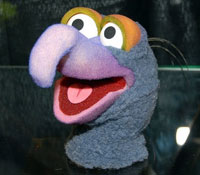 The Great Gonzo Muppet Replica is scheduled for release later this year.

The next replica in the pipe-line is said to be a Gonzo photo puppet (which was planned to precede Animal, but has been delayed due to "nose complications"). After Gonzo, word on the street is that the first Muppet Replica in 2008 is Fozzie Bear. Two more Muppets are also scheduled for release in 2008.

Until then start saving your pennies, and be sure to order your Animal or Kermit photo puppets while they are still available.

MORE MUPPET NEWS

• Muppets star in Toyota Super Bowl ad campaign
• Music Video: "All I Need is Love" with CeeLo Green and The Muppets
• Muppets on The Voice Tuesday November 27
• The Muppets Take Disney Store Manhattan November 27
• The Muppet Christmas Carol arrives on Blu-ray November 6
• Kermit and Miss Piggy on "Best in TV" ABC special September 18
• "Kermit's Party" viral videos from Bounty Paper Towels
• The Electric Mayhem on Jimmy Kimmel March 21
• Miss Piggy and Sharon Osbourne go head-to-head on The Talk