Classic Rowlf and Jimmy Dean come to DVD

Time-Life has released the first volume of "The Best of the Jimmy Dean Show" with more volumes coming later this year

Courtesy of Time-Life
May 3, 2007

Muppet fans, Jim Henson historians, country music enthusiast, comedy lovers, dog lovers, puppet lovers and pun aficionados -- here's a DVD you won't want to miss.

As you may know, The Jimmy Dean Show was an hour-long variety show hosted by country music star Jimmy Dean which ran from 1963 to 1966 on ABC. And you may also recall that it was on The Jimmy Dean Show that Jim Henson got his first national television exposure with the character Rowlf the Dog.

Rowlf was a regular on the show, appearing in every show alongside Jimmy in a special 7-15 minute comedy sketch. Jimmy Dean's show was a success for ABC and Jim Henson's budding career.

Dean stated in his autobiography that the sketches with Rowlf were the most popular part of the show, and it has even been said that Rowlf drew over two-thousand fan letters a week (which was more than even Jimmy Dean). Rowlf was brought to life through the puppeteering, writing and craftsmanship of Jim Henson, Frank Oz, Jerry Juhl, Jerry Nelson and Don Sahlin. The sketches of Rowlf and Jimmy Dean are comedy gold and real Muppet treasures. Sadly copies of these bits have been elusive and sparsely seen, however thanks to Time-Life that's changing.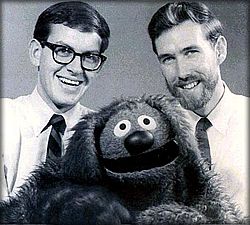 Last week Time-Life quietly released their first DVD in their "The Best of The Jimmy Dean Show" series. The single disc "volume 1" features some of the best comedy sketches and performances from The Jimmy Dean Show – showcasing such names as Buck Owens, Charlie Rich, the Chuck Cassey Singers and of course, Rowlf the Dog.
In fact the disc holds almost 20-minutes of Rowlf and Jimmy material. You can see Rowlf sing and dance; praise the one any only Lassie; sling puns; ham it up; and even showcase an admirable impersonation of Winston Churchill.
This is the first DVD release of The Jimmy Dean Show and the first commercial release of this rare Muppet material.

The Best of Jimmy Dean Volume 1

1. Jimmy Dean: Wabash Cannonball (Show Opening)
2. Eddy Arnold: She Thinks I Still Care
3. Eddy Arnold Medley: Bouquet of Roses; Any Time; I Really Don't Want to Know; You Don't Know Me; The Cattle Call
4. Eddy Arnold and Jimmy Dean: You're a Real Good Friend
5. Jimmy Dean and Rowlf: Comedy routine: Song and Dance Man
6. Jimmy Dean and The Chuck Cassey Singers: Beautiful Brown Eyes
7. Molly Bee and Jimmy Dean: Sweet Temptation
8. Eddy Arnold: Just a Little Lovin' (Will Go a Long Way)
9. Eddy Arnold, Molly Bee and Jimmy Dean: Columbus Stockade Blues
10. Buck Owens & The Buckaroos: My Heart Skips a Beat
11. Buck Owens & The Buckaroos and Jimmy Dean: Foolin' Around
12. Buck Owens & The Buckaroos: Love's Gonna Live Here
13. Molly Bee and Jimmy Dean: Midnight
14. Molly Bee, Buck Owens & The Buckaroos and Jimmy Dean: Gotta Travel On
15. Molly Bee: Burning Bridges
16. Homer & Jethro: Let Me Go, Blubber
17. Homer & Jethro: Among My Souvenirs
18. Jimmy Dean and Rowlf: Comedy routine: Swinging on a Star

MORE MUPPET NEWS

• Muppets star in Toyota Super Bowl ad campaign
• Music Video: "All I Need is Love" with CeeLo Green and The Muppets
• Muppets on The Voice Tuesday November 27
• The Muppets Take Disney Store Manhattan November 27
• The Muppet Christmas Carol arrives on Blu-ray November 6
• Kermit and Miss Piggy on "Best in TV" ABC special September 18
• "Kermit's Party" viral videos from Bounty Paper Towels
• The Electric Mayhem on Jimmy Kimmel March 21
• Miss Piggy and Sharon Osbourne go head-to-head on The Talk