Kermit honored as Grand Marshall at Michigan State

Michigan State University Takes a Homecoming Leap With the Help of a Famous Frog

Courtesy of The Lansing State Journal
October 1, 2006

Kermit the Frog is happy to do parades and interviews and such. He draws the line, however, at playing football.

"I'm not very good as a player," he said. "I'm a little small. I blend in with the grass."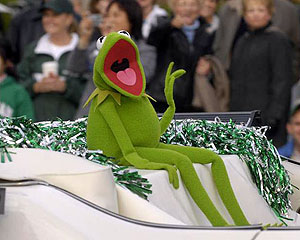 So after appearing at a sold-out alumni banquet Friday morning, he'll retreat to the Spartan Stadium press box for Saturday's Michigan State University homecoming game.
MSU coach John L. Smith offered him a spot, Kermit claimed, and diagrammed a play.
"He had a green line, indicating my possible participation, followed by a red line. It turned out that the red line means blood, so I decided not to be part of the game."
Kermit was discussing the offer Friday in the Breslin Center, prior to being grand marshal at the MSU Homecoming parade. An alert observer might have noticed that:
• He was mostly joking.
• His words were emerging from the gentleman next to him.
"I don't know who that guy is," Kermit claimed. "He's a stalker."
Actually, he's Steve Whitmire, 47, the voice of Kermit since Jim Henson's death in 1990. Most of this interview, however, was conducted as Kermit. He's been to academia before, including a speech at the University of Oxford in England.
"They usually have presidents and really important people," Kermit said. "Not so much frogs."
And he's been grand marshal before - in a Rose Bowl parade and in a town parade in Kermit, Texas.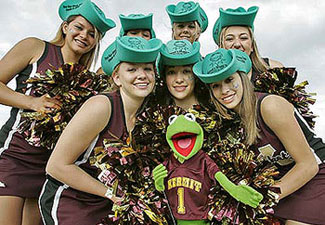 In October 2005, Homecoming king, Kermit the Frog, celebrates with the cheerleaders from Kermit High School in Kermit, Texas.
"It's a little scary," he said. "I'm just a little, tiny frog."
Most scary, he said, was the prospect that Miss Piggy would be there. He claimed to have his own security guards.
"You can never have too much security when there are pigs in the crowd," he said.
The tenuous Frog-Piggy romance has persisted for decades.
"She's matured as a sow," Kermit said. "And I mean that in the most respectful way. ... It's not easy dating a pig. You may know what I mean; I know this is a big agricultural school."
THE PERFECT GUEST
He should be famous, popular and green. Other preferences - being a mammal, for instance - are expendable.
In that case, MSU has its ideal. Kermit the Frog is grand marshal of the parade, for what should be the greenest homecoming ever.
"We started brainstorming to see if we could come up with someone really unusual," said Bev VandenBerg, assistant director of the Alumni Association.
They chose Kermit, of Muppet fame, and a color-coded event:
• Green-and-white ice cream, handed out in cups at noon Friday. Last year, 600 people were served before the supply ran out.

• The green-clad MSU football team, facing Illinois. So far, MSU has been unbeatable up to 11 p.m.

• The green-clad Spartan Marching Band. It's in the parade and at the game; then it closes the "Spartan Spectacular," at the Breslin Center.

• And Kermit, who has shown for 51 years that green can be cool and amphibians can be stars.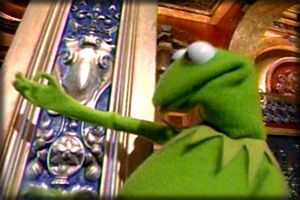 Kermit has only been grand marshal twice. One was a decade ago, for the Rose Bowl; the other was last year in Kermit, Texas.
(That town, just south of New Mexico, has 5,714 people. You could fit them into the Rose Bowl almost 20 times.)
At first, VandenBerg said, calls to Muppets management weren't returned. Fortunately, an MSU alumnus, Paul Labell, knew the head of Disney, which owns the Muppets. The deal was set.
Some cynics assumed this would just be a random puppet or costume with a temp actor inside. Not so.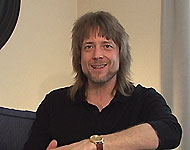 Steve Whitmire, 47, will be here. He's the towering (6-foot-4) puppeteer who took over the Kermit role after Jim Henson's death in 1990.
So Kermit will be in full voice. He'll read to Lansing elementary-school children Friday morning, lead the parade Friday afternoon, speak at the sold-out alumni banquet Saturday morning, then watch the game from the press box.
"I am amazed at how much joy people have when they meet him," said Debbie McClellan, director of creative affairs for the Muppets. "People get this giddy look."
That's all part of the cheery lifestyle of the green and famous.

MORE MUPPET NEWS

• Muppets star in Toyota Super Bowl ad campaign
• Music Video: "All I Need is Love" with CeeLo Green and The Muppets
• Muppets on The Voice Tuesday November 27
• The Muppets Take Disney Store Manhattan November 27
• The Muppet Christmas Carol arrives on Blu-ray November 6
• Kermit and Miss Piggy on "Best in TV" ABC special September 18
• "Kermit's Party" viral videos from Bounty Paper Towels
• The Electric Mayhem on Jimmy Kimmel March 21
• Miss Piggy and Sharon Osbourne go head-to-head on The Talk