Kermit and Piggy at the TV Land Awards
The fourth annual TV Land Awards ceremony will be televised Wednesday March 22 on TV Land and simulataneously on Nick at Night
Courtesy of TV Land
March 20, 2006
Kermit and Miss Piggy will be making their first ever debut on the fourth annual TV Land Awards Wednesday, March 22 at 9 pm eastern, 8 pm central.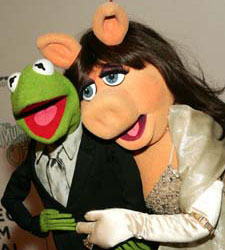 The famous Muppets, Kermit and Piggy will be performing and presenting an award during the show. A special "TV show theme song medley" will showcase memorable theme songs including The Muppet Show, Cheers, Happy Days, Family Ties, and many others.
After the show, viewers can visit www.tvland.com to see Kermit in his reporter trench coat and Miss Piggy in her evening gown interviewing celebrities like Patrick Duffy, John Amos, Ted Danson and many others.
Special awards to be given this year include:
LEGEND AWARD -This award is presented to a television series which has stood the test of time and ranks among the most memorable and celebrated shows in TV history. TV Land will honor Cheers as this year's recipient.
IMPACT AWARD - This award is given to a show that offered both entertainment and enlightenment, always striving for both humor and humanity, with comedy that reflected reality. This year's recipient is Good Times.
POP CULTURE AWARD - This award is presented to a show that has crossed the line from television series to pop culture phenomenon. This year's honoree is Dallas.

TV Land has been the broadcast home for the TV Land Awards event, since the show's inception in 2003. The TV Land Awards are celebration of past classic TV shows and TV stars. Awards are given in various categories (which change every year) with input from visitors to TV Land's website who can vote for their favorite choices.

MORE MUPPET NEWS

• Muppets star in Toyota Super Bowl ad campaign
• Music Video: "All I Need is Love" with CeeLo Green and The Muppets
• Muppets on The Voice Tuesday November 27
• The Muppets Take Disney Store Manhattan November 27
• The Muppet Christmas Carol arrives on Blu-ray November 6
• Kermit and Miss Piggy on "Best in TV" ABC special September 18
• "Kermit's Party" viral videos from Bounty Paper Towels
• The Electric Mayhem on Jimmy Kimmel March 21
• Miss Piggy and Sharon Osbourne go head-to-head on The Talk