Heather Henson to attend Muppet Movie screening in Texas
"Handmade Puppet Dreams", a screening of independent puppet films will be held in Houston on February 25 and Austin February 26; The Austin event includes a theatrical screening of The Muppet Movie
By Phillip Chapman
February 20, 2006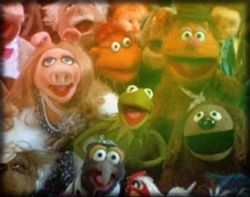 There is nothing like the excitement of seeing the Muppets on the big screen. Especially when it's a restored print of arguably the Muppets finest work in 1979's The Muppet Movie.
Heather Henson will be introducing this special screening of The Muppet Movie in Austin, Texas this upcoming Sunday February 26 at 6:30 pm. The event is part of the Texas Puppetry Festival at Austin's Alamo Drafthouse Cinema. It is planned that a video tribute for head Muppet writer Jerry Juhl who died in September will also be shown.
Tickets for The Muppet Movie screening can be purchased on-line. Children 6 and older will only be allowed with a parent or guardian. No children under the age of 6 will be permitted in the theater.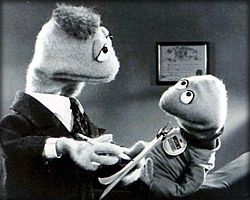 After The Muppet Movie screening, Heather will be participating in Handmade Puppet Dreams, a screening of short puppet films by independent artists exploring their puppet craft specifically for the camera. Some early Henson shorts will also be shown including: "Nobody", "Cool Jazz", "Java", 'King of 8" and "Shrinkel and Stretchel".
The Handmade Puppet Dreams screening will also occur Saturday February 25 in Houston, Texas at The Aurora Picture Show at 8 pm. For those who would like to attend both the Houston and Austin events, Austin is a three-hour drive from the Houston area.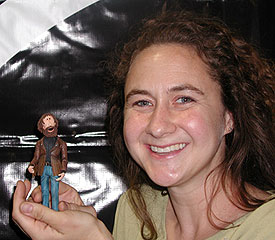 Heather Henson proudly holds Palisades' Jim Henson Muppet action figure.

Heather Henson is a graduate of Rhode Island School of Design in animation and attended The California Institute of the Arts to broaden her expertise in visual spectacles for theatre. She has created numerous nature based theater performances of her own and has added her designs in puppetry and projections to other productions in Los Angeles, New York, Minneapolis, Madison and Providence.

Most recently she has produced animation to be incorporated on stage with choreographed indoor kites. She continues to produce and showcase other artists in a myriad of venues including film, television, and stage. This past November, Heather helped to produce the first Orlando Puppet Festival in Florida. This was a week long festival of live puppet shows, films and workshops.

MORE HENSON NEWS

• Jerry Nelson tribute at The Moving Image Museum October 27
• Jim Henson's Pajanimals debuts on NBC Kids Saturday July 7
• The New York Pops play The Muppets at Carnegie Hall April 14
• Henson announces "Sid the Science Kid: The Movie" in 3-D
• The Jim Henson Company Puppets to perform at the 2011 Grammys
• "Pioneers of Television" special to honor Jim Henson
• Classic "Henson's Place" special arrives on DVD August 3
• Frank Oz unveils tribute to the "Henson Pipes" at NBC Studios