Jim Henson's Pajanimals debut on NBC Kids Saturday July 7
NBC will launch NBC Kids, a new Saturday morning preschool block programmed by Sprout
Courtesy of NBC
March 28, 2012
NBC will launch NBC Kids, a new Saturday morning programming block designed specifically to address the developmental needs of preschool-aged children, premiering on Saturday, July 7.
Programmed by the kids experts at Sprout, the nation's first 24-hour preschool television channel, this new three-hour block will feature educational series that promote active, healthy lifestyles for younger children.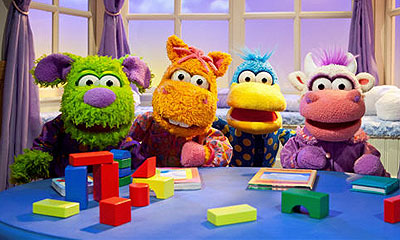 NBC Kids will include the U.S. broadcast premieres of quality, preschool series "The Wiggles," Sprout's "Noodle & Doodle," Jim Henson's "Pajanimals," "Poppy Cat," "Justin Time," as well as the popular "LazyTown," designed to encourage healthy eating and exercise.
The announcement was made jointly by Robert Greenblatt, Chairman of NBC Entertainment, and Sandy Wax, President of Sprout.

"NBC is proud to partner with Sprout in providing progressive new programming that will entertain and encourage children to achieve more positive life choices," said Greenblatt. "This is an ideal blend of entertaining shows that also offer promising benefits to the development of children on many levels."
"Producing this new block for NBC will extend the reach of quality preschool programming beyond Sprout's cable, VOD and digital platforms affording millions of families the opportunity to watch quality preschool series that promote active, healthy lifestyles," said Wax.
ABOUT SPROUT
Available in over 50 million homes, Sprout is the first 24-hour preschool destination available on TV, on demand and online for children ages 2-5 and their parents and caregivers. The 24-hour digital channel, which launched in September 2005 along with the website (SproutOnline.com), is the only channel that follows the day of a preschooler from breakfast to bedtime with its distinctive, interactive programming and original hosted blocks. Sprout's VOD offering is the #1 on demand service for younger children with over one billion views.
Sprout is a partnership among NBCUniversal, PBS, Sesame Workshop and Apax Funds. Its program lineup of gold-standard, curriculum-based preschool shows includes: Sesame Street, Bob the Builder, Barney & Friends, The Wiggles, Caillou, Pajanimals, Thomas & Friends, LazyTown and more.

MORE HENSON NEWS

• Jerry Nelson tribute at The Moving Image Museum October 27
• Jim Henson's Pajanimals debuts on NBC Kids Saturday July 7
• The New York Pops play The Muppets at Carnegie Hall April 14
• Henson announces "Sid the Science Kid: The Movie" in 3-D
• The Jim Henson Company Puppets to perform at the 2011 Grammys
• "Pioneers of Television" special to honor Jim Henson
• Classic "Henson's Place" special arrives on DVD August 3
• Frank Oz unveils tribute to the "Henson Pipes" at NBC Studios