"Kermit's Christmas Capers" to air this holiday season
By Greg James
September 17, 2005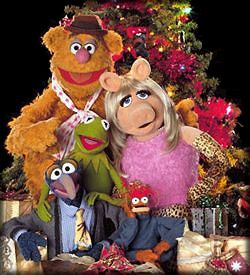 Aside from celebrating Kermit's 50th Birthday this year, The Muppets and Disney also plan to celebrate Christmas together (again). With half-a-dozen Christmas productions already under their belts, the Muppets plan to continue to the grand tradition with an all new television special planned to air this holiday season. The plans for an all new Muppet Christmas television special in was announced a few months ago by Chris Curtin, the vice president and general manager of the Muppets.
The special, which is tentatively titled "Kermit's Christmas Capers", will be the first of many new Muppet productions released by the Muppets Holding Company. The Muppets Holding Company is impressed on the overall response the past Muppet Christmas specials and films have gotten from viewers, and have said that they would like to allow the Muppets to be part of families' annual Christmas traditions. Christmas is one of the things the Muppets do best, and Christmas specials are things people love to watch year after year.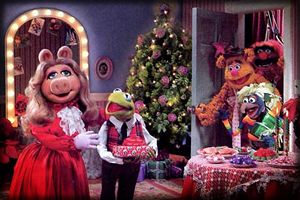 The Muppet's last two productions, "The Muppets' Wizard of Oz" and "It's a Very Merry Muppet Christmas Movie", were the first two times that there had ever been a really high-budget Muppet movie made for TV. When asked if "Kermit's Christmas Capers" will be the big television project these films were made to be, insiders reported that this will be more of a low-key special, more in line with the Muppet specials of the 1970's, '80s, and early '90s (such as "A Christmas Together" or "A Muppet Family Christmas"). The special will feature the regular wacky Muppet antics, a touching story, great jokes, heart-filled moments, the obligatory celebrity cameos, and holiday fun that all will enjoy. No further information or details on the production are available at this time.
"Kermit's Christmas Capers" is planned to air on TV in December, 2005. There have been no official plans for home video or DVD releases announced at this time. More information on the special, its production, and its release should be released by Disney and available later this fall.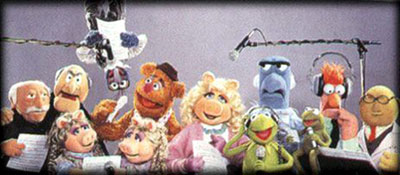 The Muppets Holding Company has also been working with Walt Disney Records on a Christmas project. Plans for a Muppet holiday album are set for release this holiday season as well. The exact details and track listing of the album are unknown at this time, but many believe that the CD will be the Muppet's greatest Holiday hits from their past Christmas specials, films, and productions. More details on this endeavor should be available later this fall as well.

MORE MUPPET NEWS

• Muppets star in Toyota Super Bowl ad campaign
• Music Video: "All I Need is Love" with CeeLo Green and The Muppets
• Muppets on The Voice Tuesday November 27
• The Muppets Take Disney Store Manhattan November 27
• The Muppet Christmas Carol arrives on Blu-ray November 6
• Kermit and Miss Piggy on "Best in TV" ABC special September 18
• "Kermit's Party" viral videos from Bounty Paper Towels
• The Electric Mayhem on Jimmy Kimmel March 21
• Miss Piggy and Sharon Osbourne go head-to-head on The Talk