"America's Next Muppet" mini-series in development
New six-episode TV reality series slated for Spring-Summer 2006
By Greg James
September 5, 2005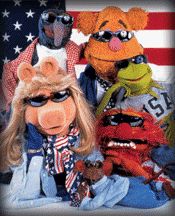 They've acted in countless movies and television specials; they ran their own weekly vaudeville stage show on "The Muppet Show"; they ran the MuppeTelevision control room in "The Jim Henson Hour"; and they put tackled their own television station with "Muppets Tonight". Now the Muppets are working on their latest gig, putting together their own "reality" television contest called "America's Next Muppet".
Ever since Disney acquired the Muppets in 2004, fans have been wondering when they would be making their TV comeback. Chris Curtin, vice president and general manager of the Muppets, became a major backer for the idea of a Muppet reality-TV spoof special. A "reality" show pilot pitch was filmed in Los Angeles during the summer of 2004, and shared around the Disney Company. The pilot, which was produced by the Jim Henson Company and reportedly directed by Muppeteer Bill Barretta, was a success with Disney executives.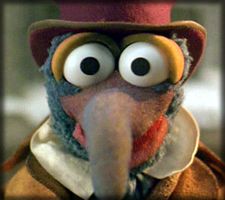 After making several changes from the pilot's concept, a deal was established to produce a Muppet mini-series that parodies current reality-TV while showcasing the Muppet magic and characters the world has come to love. According to Chris Curtin, ABC will bring the Muppets back to TV for an all new 6-episode series titled "America's Next Muppet".
The short-run reality-TV spoof is sure to be a fun and entertaining series that Muppet fans will enjoy. The reported premise is that Kermit and the other classic Muppet characters are setting up a talent contest to find the newest member of the legendary Muppet troupe. All kinds of new wacky Muppet characters and wild new Muppet acts will audition for the panel of judges (such as Kermit, Miss Piggy and Gonzo) who will be the reviewing the performances.
As all Muppet shows, the series will also show the existing Muppet gang in action as they try to hold the auditions and organize the challenges on the show. Some reports even say that Disney is working to make the show "interactive" by allowing viewers to vote for their favorite characters in that week's episode.
"America's Next Muppet" will be used as a small assessment by The Muppet Holding Company and ABC to see if the Muppets can survive in today's television market. If "America's Next Muppet" attracts a crowd, the Muppets may be looking at another entirely new, full-time TV-show in the near future.
"America's Next Muppet" is tentatively set to air on ABC sometime next year (probably the spring or summer of 2006) – however this could change. There is no further information on the series' premiere or any further details available at this time. However, "America's Next Muppet" is in development through The Muppet sHolding Company; pre-production and planning for the six episodes of the show is currently underway.

MORE MUPPET NEWS

• Muppets star in Toyota Super Bowl ad campaign
• Music Video: "All I Need is Love" with CeeLo Green and The Muppets
• Muppets on The Voice Tuesday November 27
• The Muppets Take Disney Store Manhattan November 27
• The Muppet Christmas Carol arrives on Blu-ray November 6
• Kermit and Miss Piggy on "Best in TV" ABC special September 18
• "Kermit's Party" viral videos from Bounty Paper Towels
• The Electric Mayhem on Jimmy Kimmel March 21
• Miss Piggy and Sharon Osbourne go head-to-head on The Talk