Muppets.com nominated for Webby Awards
Fans are encouraged to help promote the Muppets by voting on-line
By Greg James
April 14, 2005
Muppets.com, the official Muppets website, has been nominated for two Webby Awards. A Webby is the leading international award honoring excellence in Web design, creativity, usability and functionality.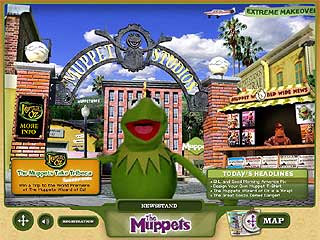 Muppets.com, which is the official source for all your Muppet needs, is not only full of Muppet fun and charm, but is also beautifully designed - complete with custom integrated videos, graphics, games, and more. For one of the Webby's, the winner will be determined by the public-at-large and The Muppets Holding Company wants your help.
Vote for Muppets.com as best celebrity website under the "People Voices" competition. They need as many fans as possible to go to the Webby Awards site and show their Muppetational support.
There are six easy steps to vote:
Go to www.webbyawards.com
Click on "People's Voice Awards" link (located in the "Nominees Announced" box on the right).
Fill in a username and password information (you may need to register, for free, first by using the register link).
Connect to the categories listing and click on the "celebrity/fan" link.
Click on the box next to the Muppet.com listing.
Press submit.
By supporting Muppets.com not only will you be showing the Webby Awards that you care about the Muppets, but you will also be showing Disney that you care about the characters as well. Go and vote today.

MORE MUPPET NEWS

• Muppets star in Toyota Super Bowl ad campaign
• Music Video: "All I Need is Love" with CeeLo Green and The Muppets
• Muppets on The Voice Tuesday November 27
• The Muppets Take Disney Store Manhattan November 27
• The Muppet Christmas Carol arrives on Blu-ray November 6
• Kermit and Miss Piggy on "Best in TV" ABC special September 18
• "Kermit's Party" viral videos from Bounty Paper Towels
• The Electric Mayhem on Jimmy Kimmel March 21
• Miss Piggy and Sharon Osbourne go head-to-head on The Talk