World premiere of Muppets' Wizard of Oz at Tribeca Film Festival
Oz screenings will be free to the public on April 27th, April 30th and May 1st at New York City
By Greg James
March 22, 2005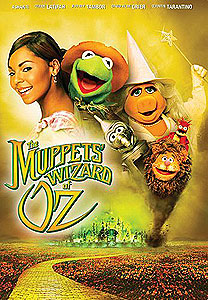 ABC's promotional poster for "The Muppets' Wizard of Oz."

The fourth annual Tribeca Film Festival will take place from April 19th through May 1st. Of the hundreds of film entries, there is one that will have Muppet fans gathering to waiting in line. "The Muppets' Wizard of Oz" is sure to be popular when it gets its world premiere at the Tribeca Film Festival before airing on ABC later in May.

The film's running time is listed at 88 minuets. Screenings are free (first come, first serve) and will be on April 27th (7:30 pm), April 30th (7:00 pm) and May 1st (6:00 pm). More details can be found on the festival's official website.

If you can't make it to New York City to catch the premiere, The movie will air on network television in mid to late May as part of "The Wonderful World of Disney", which is Saturday nights at 8/7c on ABC. The exact week of its airing will not be available until mid-April, after ABC has worked out the whole line-up for "The Wonderful World of Disney".

Sources also report that Disney is working on setting up deals to have the film replayed over the summer on either ABC Family or the Disney Channel, but nothing official yet.

There are also plans for a home video and DVD release of the film soon after its TV debut in May. The Oz DVD will likely be released this fall.

Editor's Note: If you are able to attend one of the Oz' screenings, please let us know through our feedback section. We're looking for a few folks in attendance to write a review of the film.

MORE MUPPET NEWS

• Muppets star in Toyota Super Bowl ad campaign
• Music Video: "All I Need is Love" with CeeLo Green and The Muppets
• Muppets on The Voice Tuesday November 27
• The Muppets Take Disney Store Manhattan November 27
• The Muppet Christmas Carol arrives on Blu-ray November 6
• Kermit and Miss Piggy on "Best in TV" ABC special September 18
• "Kermit's Party" viral videos from Bounty Paper Towels
• The Electric Mayhem on Jimmy Kimmel March 21
• Miss Piggy and Sharon Osbourne go head-to-head on The Talk