The Mouse sends Muppets to promo land
Courtesy of the Hollywood Reporter
December 22, 2004
Kermit the Frog has been a film and TV star, adored across the world.
But like so many stars pushing 50, Kermit has increasingly found himself somewhat in the shadow of other rivals.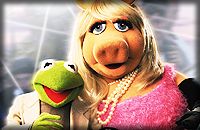 Luckily for him, though, Walt Disney has signed him to a lifetime contract and plans to relaunch his career -- along with those of his Muppet friends, including Miss Piggy, Gonzo and Fozzie Bear -- with a series of high-profile marketing moves aimed at making him bigger than ever.
After years of talks, near-partnerships and various relationships with the company founded by the late Jim Henson, Disney acquired the Muppets in February.
Disney is hoping to do with the Muppets what it's done with a property like the toddler-targeted Baby Einstein: take a big thing and make it bigger using the Disney marketing muscle.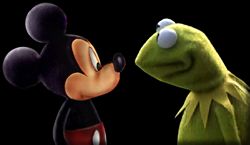 "We think of Kermit as being in the same iconic league as Mickey Mouse and Winnie the Pooh in terms of characters with universal appeal and long-standing impact," said Chris Curtin, vp and general manager of the Muppets Holding within Disney. "We plan to bring back the Muppets with the full marketing, creative and distribution resources of the Walt Disney Co."
That could translate into big money for Disney if it's able to reignite the Muppets to anywhere near the popularity of Mickey and Pooh. Forbes magazine recently pegged those two Disney characters as the top two "fictional billionaires," with yearly earnings of $5.8 billion (3 million pounds) and $5.6 billion, respectively.
Terms were not disclosed for Disney's purchase of the Muppets, though sources pegged Disney's outlay at about $60 million in cash plus ongoing revenue participation for Henson.
Curtin declined to put a value on the Muppets as a moneymaking franchise, though he pointed to Baby Einstein as "the only other franchise that (Disney) believed warranted its own central franchise group."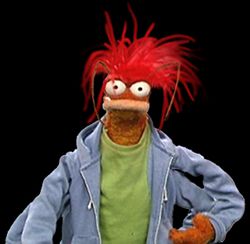 Baby Einstein, which Disney bought three years ago from its founders for a reported $25 million, now grosses $170 million in revenue per year. It has grown from a narrowly focused line of toddler videos to a full line of educational toys and an upcoming Disney Channel TV show tailored to preschoolers.
Curtin said the initial focus for the Muppets will be broad-based. Although there have been brand extensions like a Muppets Baby line in the past, he said Disney wants to first concentrate on "getting today's audience excited and reacquainted with a remarkable property."
Reviving the Muppets is a serious business for Disney -- and a pet project of CEO Michael Eisner. Disney's Muppets unit has had three "summits" already with the parks and resorts division alone, discussing how to maximize synergy between the Muppets and Disney's parks, cruise line, etc. A Muppets show at Disneyland and Walt Disney World predated the Muppets acquisition.
Curtin and company also have been busy coordinating with Disney's TV outlets to land appearances on shows like ABC's "Good Morning America" and the network's annual airing of the Walt Disney World Christmas parade.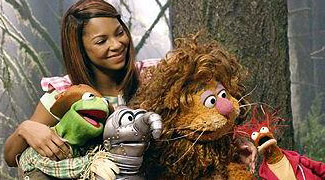 The 1992 movie "The Muppet Christmas Carol" also is airing on the Disney Channel, Toon Disney and ABC Family throughout the holiday season. Disney also is hoping for a May sweep debut of the just-wrapped "Muppets Wizard of Oz" TV movie on ABC, followed by a video release.
Outside the Disney empire, Kermit also made his latest appearance this past weekend on NBC's "Saturday Night Live."
Disney also inherited a promotional relationship with Macy's that included the fourth year in a four-year deal to feature Kermit in the retailer's widely watched Thanksgiving Day Parade. That exposure even landed Kermit some free ink on the front page of the New York Times.
Sheer awareness of the core Muppets isn't a problem: Curtin said Disney's research indicates a more than 90% awareness for Kermit. But consumers may be less familiar with what the characters are about, which is a key to getting them interested in watching and buying things related to the Muppets.
"They've obviously got good characters with a long history," said Marty Brochstein, executive editor of trade publication the Licensing Letter.

MORE MUPPET NEWS

• Muppets star in Toyota Super Bowl ad campaign
• Music Video: "All I Need is Love" with CeeLo Green and The Muppets
• Muppets on The Voice Tuesday November 27
• The Muppets Take Disney Store Manhattan November 27
• The Muppet Christmas Carol arrives on Blu-ray November 6
• Kermit and Miss Piggy on "Best in TV" ABC special September 18
• "Kermit's Party" viral videos from Bounty Paper Towels
• The Electric Mayhem on Jimmy Kimmel March 21
• Miss Piggy and Sharon Osbourne go head-to-head on The Talk