Jim Henson and Muppets on 2005 US postage stamps
Courtesy of the USPS and the Virtual Stamp Club
August 14, 2004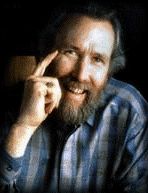 The United States postal service has announced their 2005 stamp releases and Jim Henson fans will get a special stamp next year in honor of the Muppets creator.
Ten Muppet characters will share a sheet of stamps with a single stamp for their creator, Jim Henson. The Muppets honored include Kermit, Miss Piggy, Fozzie Bear, Sam the Eagle, Statler and Waldorf, Animal, Rowlf the Dog, The Swedish Chef, Dr. Bunsen Honeydew and his assistant Beaker, Camilla the Chicken and Gonzo. Below the single Henson stamp is a larger photo in the sheet's selvage showing Henson in silhouette sitting on the floor, back to a wall, knees drawn up, and talking to Kermit.
We do not yet have photos of the stamps, but we will have pictures and release dates as soon as possible. Join the Muppet Central Mailing List to stay informed of current happenings.
From 1999-2001, Muppet Central held a Jim Henson Stamp Campaign to help show fan interest in a Jim Henson stamp to the Citizens' Stamp Advisory Committee. Fans wrote letters of why they would like to see Jim Henson commemorated on a US postage stamp.
Here's a complete list of the 2005 stamp issues:
Lunar New Year souvenir sheet
Black Heritage: Marian Anderson
Love Bouquet
Ronald Reagan
Jim Henson & The Muppets
Spring Flowers
Nature of America: Northeast Deciduous Forest
American Scientists
Literary Arts: Robert Penn Warren
Yip Harburg
Legends of Hollywood: Henry Fonda
Distinguished Marines
Modern American Architecture
American Treasures: New Mexico Rio Grande Blankets
American Advances in Aviation
Art of Disney: Celebrations
Arthur Ashe
To Form A More Perfect Union (Civil Rights)
50s Sporty Cars
Constellations (4)
Child Health
Holiday Cookies
Let's Dance (Latino Dances)
Presidential Libraries

MORE MUPPET NEWS

• Muppets star in Toyota Super Bowl ad campaign
• Music Video: "All I Need is Love" with CeeLo Green and The Muppets
• Muppets on The Voice Tuesday November 27
• The Muppets Take Disney Store Manhattan November 27
• The Muppet Christmas Carol arrives on Blu-ray November 6
• Kermit and Miss Piggy on "Best in TV" ABC special September 18
• "Kermit's Party" viral videos from Bounty Paper Towels
• The Electric Mayhem on Jimmy Kimmel March 21
• Miss Piggy and Sharon Osbourne go head-to-head on The Talk