The Muppets Amazing Staying Power
Born in the mind of Jim Henson while he attended the University of Maryland nearly 50 years ago, the Muppets have had amazing staying power as a commercial force.
Courtesy of the Baltimore Sun
February 1, 2004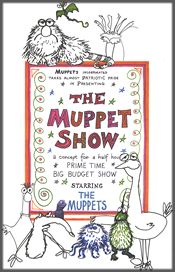 Network television rejected Jim Henson in the mid-1970s when he pitched his Muppets for a regular series, even though his Sesame Street puppets had become a household name on public television.
"Why would adults want to watch that?" he was told, recalled Henson's former publicist Arthur Novell. So Henson shopped the Muppets to the United Kingdom, where they became an instant hit before they found their way back to the United States and won their own TV show.
Their latest starring role will be today, in a commercial during Super Bowl XXXVIII on CBS. The question of whether they appeal to adults will be answered again before 90 million TV viewers and at an estimated cost of $2.3 million per 30 seconds.
Conceived by Henson while he was a theater-arts student at the University of Maryland, College Park in the mid-1950s, the Muppets have been a commercial tour de force for a half-century. Their popularity has eclipsed that of most other characters born in the television age.
The Muppets rank higher than American Idol's Clay Aiken among teen-agers and higher than actress Drew Barrymore among adults older than age 50.
In today's ad for Pizza Hut, Miss Piggy and Jessica Simpson, the pop singer and reality-TV star, compete for the affection of Kermit the Frog. The story line of the pig romancing a frog is still endearing to audiences and makes cash registers ring.

"We've got some of the most recognizable celebrities out there," said Sean Gleason, Pizza Hut vice president of marketing and communications. "We've got celebrities for both 5 and 50-year-olds."

The $13.6 billion entertainment licensing industry is littered with one-hit wonders. Some were enormously popular but fizzled, such as the Smurfs. Others faded, then were revived, including the Care Bears, My Little Pony and Strawberry Shortcake.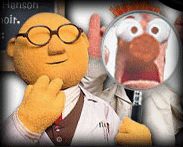 But the Muppets, owned by the Jim Henson Co. of Hollywood, Calif., are in an exclusive club, with the likes of Walt Disney's Mickey Mouse, Charles M. Schulz's Snoopy, Chuck Jones' Bugs Bunny and Johnny Gruelle's Raggedy Ann.
"They're one of the enduring licenses in the toy industry and several other industries as well," said Diane Cardinale of the Toy Industry Association in New York, which represents 400 toy manufacturers. "They're right up there with Disney characters in terms of worldwide appeal."
Henson, who died in 1990, was viewed superficially as a creative hippie-type but had a sharp business mind, associates recall. He licensed the characters for Sesame Street -- which his company later sold -- years before mass merchandising of children's subjects mushroomed.
The puppets' successes have ranged from TV's The Muppet Show to five movies that grossed $187 million. A "Kermit Klein" T-shirt spoofed a popular 1980s underwear ad with rapper-turned-actor Mark Wahlberg. The shirt image generated hundreds of thousands of dollars in royalties, the Henson company reported.
In recent years, the puppets have starred in ads for the U.S. Mint, MasterCard, UPS, Starbucks, and Long John Silver and Denny's restaurants. Muppet versions of board and video games include Monopoly and Game Boy Advance.
"They are a steady evergreen," said Martin Brochstein, executive editor of The Licensing Letter, an industry publication in New York. "They are part of the collective consciousness, but it's not like there's a big movie that comes out every year so everyone is aware of them."
The Muppets' "Q score" -- an industry measure of celebrity -- found that 38 percent of people who knew of the puppets rated them among their favorites. The average for fictional figures is 33 percent. The Muppets rank higher than American Idol's Clay Aiken among teen-agers and higher than actress Drew Barrymore among adults older than age 50.
"They're timeless," said Jerry Della Femina, chairman of Della Femina Rothschild Jeary & Partners advertising in New York. "They could be around 40 years from now.
Marketing executives say the characters strike a rare balance. They are beloved by children, but their humor is sophisticated enough for adults. The Jim Henson Co. said it strives for story lines that reflect the times or it pairs the puppets with popular celebrities.
"You watched it as a kid and got some of the jokes, but when you see them again as an adult, they're a lot funnier than they were the last time," said Bill Sherman, an instructor at the University of Illinois, Urbana-Champaign, who has followed the history of the Muppets.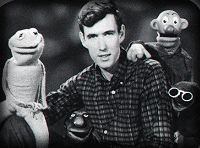 Henson began his puppet career as a high school senior in 1954, performing shows on WTOP-TV in Washington. While he was attending the University of Maryland, the Washington NBC affiliate ran Sam and Friends, a five-minute nightly show created by Henson that featured an early, scruffier version of Kermit.
"He viewed these characters as those that would go on long after The Muppet Show ended," Lisa Henson said of her father. She and her brother Brian run the Jim Henson Co.
"While they were doing feature films, he was looking for them to make guest appearances on television shows. When they were making guest appearances, he was looking for them to do commercials," she said.
The company closely guarded the characters' images and remained selective about their appearances. Criticisms like those aimed at the use of The Cat in the Hat, by Dr. Seuss (Theodore Geisel), in mass marketing and a movie this winter haven't been directed at the Muppets.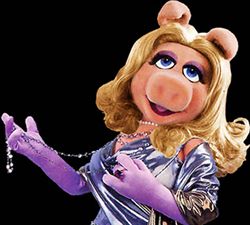 "We've never yet made a long-term deal which would connect our characters permanently to any campaign or product," Lisa Henson said. "Usually we do things that run in the short term."
Even short-term offers plenty of exposure on Super Bowl Sunday. The Muppets will help Pizza Hut launch "4forALL," a campaign for a new pizza divided into four squares, each with a different topping. Miss Piggy, Kermit and Animal bicker over what toppings to order. Simpson saves the day by suggesting the four-piece pizza but upsets Miss Piggy by flirting with Kermit.
"It's quintessential for a Super Bowl spot," said David Blum, vice president at Eisner Communications in Baltimore.

MORE MUPPET NEWS

• Muppets star in Toyota Super Bowl ad campaign
• Music Video: "All I Need is Love" with CeeLo Green and The Muppets
• Muppets on The Voice Tuesday November 27
• The Muppets Take Disney Store Manhattan November 27
• The Muppet Christmas Carol arrives on Blu-ray November 6
• Kermit and Miss Piggy on "Best in TV" ABC special September 18
• "Kermit's Party" viral videos from Bounty Paper Towels
• The Electric Mayhem on Jimmy Kimmel March 21
• Miss Piggy and Sharon Osbourne go head-to-head on The Talk