The Muppets Take Hollywood at Jack in the Box restaurants
7 New Action Figures premiere Monday June 9th
By George Colon
June 6, 2003
What a fantastic summer for Muppet fans. Beginning on Monday June 9th, Jack in the Box presents "Jim Henson's Muppets Take Hollywood" kids meal toys. The set of seven toys consists of the "Big Five" Kermit, Miss Piggy, Fozzie, Gonzo, and Animal, as well as two fan favorites The Swedish Chef and Pepe.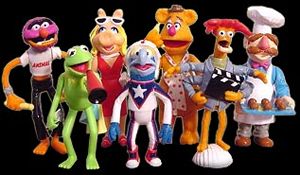 Each toy comes with a gold colored, star shaped stand, with the new Muppets logo imprinted on it, as well as a little pamphlet with a character description, and advertisements for other Muppets merchandise (Series 1-4 of the Palisades action figures, the Muppet Show DVD's, and the Music, Mayhem, and More CD).
Another unexpected surprise about these premiums is that the toys are action figures. Each figure has between 3 and 5 points of articulation, and stands between 3½ and 4½ inches tall. The character representation is a bit hit or miss, but still look amazing considering these are fast food premiums. The bodies of the toys are hollow plastic, while the head, and appendages are a sort of hard rubber.
None of the characters have "Muppet Texture", but the characters with fur or hair have it sculpted into the plastic or rubber where appropriate. Paint application is well done, especially on the eyes and mouths. Although it may be hard to notice by just looking at the figures, there is a Hollywood theme, and it's all explained in the individual character descriptions. Each figure also has a peg hole in the right foot that fits securely onto the peg on the stand.
Jack in the Box could be considered "collector friendly" when it comes to their kids meal toys. They commonly advertise that the toys are available "With purchase of a kids meal, or sold separately, while supplies last". Check the promo window clings on the storefronts for this phrase. It's been my experience that most Jack in the Box restaurants sell individual toys for .99 cents. You may even want to check your local Jack in the Box this weekend, and see if they will sell these toys to you early. Unlike McDonalds or Burger King, they will get every toy for the promotion right away, so you don't have to make a trip every week. Just be sure to ask for all seven characters, or just ask for the ones you like.
The Muppet promotion will continue through August 3 at more than 1,900 Jack in the Box restaurants. With a Jack's Kid's Meal, you can choose a hamburger, cheeseburger or chicken pieces with french fries and a 16-oz. beverage. You will also receive the exclusive Muppet figure and a Muppet bag that features games for kids of all ages.
What follows is the description provided on the pamphlets for each individual character, as well as a brief description of the actual toy itself:
Kermit the Frog
"The world's most famous, successful-and only-amphibian movie director is ready to roll into action. Quiet on the set! Cue the Pig! It's time to get things started!"
Kermit features 3 points of articulation, head, and both shoulders. He's holding a megaphone in his left hand, and a clipboard in his right.
Miss Piggy
"There are stars… and then there is the ultimate movie diva—Miss Piggy. She's always in demand… and always very demanding. And when she's not on the set you'll find her on Rodeo Drive running up a tab that'd make anyone turn green."
Piggy features 3 points of articulation, head, and both shoulders. She's holding a purse in her left hand, and two shopping bags in her right. She has a sculpted pair of sunglasses on her head, and a sculpted scarf around her neck.
Fozzie Bear
"Fozzie's gone Hollywood, taking calls and making deals on his hip new cell phone. Does this mean no more banana phone? Oh sure, it doesn't get great reception, but the audience finds it a-peeling. Wocka Wocka!"
Fozzie features 5 points of articulation, head, both shoulders, and both legs. He's holding a cell phone in his left hand, and his banana in his right. The hat and scarf are sculpted.
The Great Gonzo
"Some call him fearless. Some call him foolish. But when Hollywood needs a stuntman who's willing to break every bone, they call The Great Gonzo! Suited up and ready to go, Gonzo knows that no matter what happens on the set… his health insurance premiums are sure to go sky high!"
Gonzo features 4 points of articulation, head, both shoulders, and waist. He's wearing a very Super Dave, Evil Knevil jumpsuit, and his helmet is part of the head sculpt.
Animal
"DRUMS! DRUMS! LOUDER! LOUDER! Get ready to rock as Animal, the original wild drummer, hits Sunset Strip harder than it's ever been hit before. His drums-and your ear drums-will take a pounding when Animal brings down the house with a beat that can't be beat."
Animal features 4 points of articulation, head, both shoulders, and waist. He's wearing a white t-shirt that says ANIMAL, and his drum sticks are sculpted into his hands.
Swedish Chef
"Hoodee Doo! The Swedish Chef is making mouths water by opening is one of a kind Hollywood celebrity hangout-"Chez Chef"-where the food is great… and the waiting list is so long… even the Swedish Chef can't get in. Yoo betcha!"
Swedish Chef features 3 points of articulation, head, and both shoulders (but they move in unison). He's holding a tray of Swedish meatballs, and the tray is the Swedish Flag. The tray is sculpted into both hands, and the hat is part of the head sculpt.
Pepe
"Ole! Pepe the king prawn is the ultimate ladies' man, and the starlets of Hollywood cannot resist this charming, witty, hot and spicy shrimp. …Oops! Never call him "shrimp" okay… or Pepe will turn up the heat on you."
Pepe features 5 points of articulation, head, upper arms (they move in unison so I counted it as 1), lower arms (move separately), and waist. Pepe is holding a clapboard in his lower left hand. Pepe is also attached to the top half of a clam, and is not made to be removed from it.
Jack in the Box Inc. operates and franchises two restaurant chains in 29 states: Jack in the Box® restaurants and Qdoba Mexican Grill®. Jack in the Box is the nation's first major drive-thru hamburger chain, with nearly 1,900 restaurants, and Qdoba Mexican Grill is an emerging leader in fast-casual dining, with more than 90 restaurants. With headquarters in San Diego, Jack in the Box Inc. has more than 44,000 employees. For more information, visit www.jackinthebox.com and www.qdoba.com.