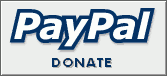 The Best of the Muppet Show DVD's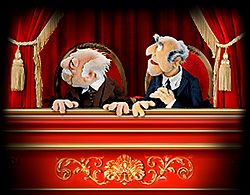 Phillip Chapman (11-24-2001) - It really is pretty amazing, we now have uncut Muppet Show DVD's and videos courtesy of the wonderful people at Time-Life.
The quality of the video and sound is very good on these DVD's. The Muppet Show has never looked so clear and sharp. Each episode contains a 2-minute song or sketch that was originally not shown in the US due to longer commercial timeslots. It's usually referred to as a "UK Skit". Also included is a one-minute intro by Brian Henson per episode, originally produced for the Odyssey Channel in 1999.
There are four additional bonus features on each disc that are not included on the videos: a Muppetism, a Muppet Movie spoof, a single Henson sketch of a character, and a hidden "Did you know?" feature. The Muppetisms and Muppet Movie spoofs were originally produced for Odyssey and are hilarious 1-2 minute commercials and parodies. All-in-all, a fantastic collection that's been long-overdue. The Henson sketch is a drawing with a text description of a character as it was being developed.
On each DVD there is also a simple hidden feature. From the main menu, if you push up you can highlight the picture of Animal. Press enter and it will take you to an interesting fact entitled "Did you know?" about one of the episodes.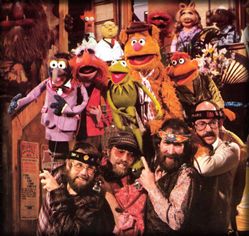 There are a few elements, however, that would really help to make these discs the ultimate for fans:
It's unfortunate that the original first season themes were not included. They were replaced with a second season theme. Check out our Muppet Show guide introduction for what the original theme was like and why the Henson Company no longer shows the original versions.



It would have been great to have at least 4-6 episodes per disc as they would have easily fit. A "behind-the-scenes" disc would be a great addition for fans who buy the whole set. The "Of Muppets and Men" documentary, the 60 Minutes Muppet Show interview, and current interviews from performers would make a fantastic bonus DVD.
Here is a list of the episodes included in the 15 DVD set, and also the special features found on each disc. All are available to buy from Time-Life.com.
Volume 1
Episodes - Elton John, Julie Andrews, Gene Kelly
UK Skits - Any Old Iron, Borneo, Fit as a Fiddle
Muppetism - Floyd (the Groovemaster) and Kermit (amphiboogie danci-frog)
Movie Mania - Flipperdance
Archives - Swedish Chef sketch

Did you know? - The crew of the Swintrek eventually made it into space - sort of. In November 1981, the Muppet Performers created a special Pigs in Space audio tape which was played as a wake-up recording for the crew of an early Space Shuttle Columbia mission.

Volume 2
Episodes - Mark Hamill, Paul Simon, Raquel Welch
UK Skits - Three Little Fishes, Veterinarian's Hospital, Marvin Suggs Interview
Muppetism - Miss Piggy (the Diva)
Muppet Screen Test - Star Wars: Yoda
Archives - Angus McGonagle sketch

Did you know? - The Muppet Show was taped at ATV Television Studios - Studio D, Borehamwood, England. Mark Hamill knew his way around the neighborhood - ATV was right across the street from the Elstree Studios where the first Star Wars trilogy was filmed.

Volume 3
Episodes - Harry Belafonte, Linda Ronstadt, John Denver
UK Skits - Interlude by Floyd and Zoot, I'm So Happy, Trees
Muppetism - Bunsen (the scientist) & Beaker (the assistant)
Muppet Screen Test - Streetcar Named Desire
Archives - Statler & Waldorf sketch

Did you know? - The Harry Belafonte episode was one of Jim Henson's favorites. Although the show's running gag involves Fozzie writing the script, it was Harry Belafonte who helped shape this episode to make sure it had some deeper meaning. Harry even wrote the beautiful introduction to the closing number, Turn the World Around.

Volume 4
Episodes - Peter Sellers, John Cleese, Dudley Moore
UK Skits - Memory Lane, Waiting at the Church, The Music Machine Backstage
Muppetism - Waldorf (the old coot) & Statler (the old geezer)
Movie Mania - The Frogfather
Archives - Animal sketch

Did you know? - Peter Sellers was a big fan of The Muppet Show and had a video collection of many episodes which he would watch over and over. He once told Muppet Performer Dave Goelz that his favorite character was Gonzo and that he felt a bond between Gonzo and Inspector Clouseau.

Volume 5
Episodes - Alice Cooper, Vincent Price, Marty Feldman
UK Skits - Once a Year Day, I'm Looking Through You, Girlfriend of the Whirling Dervish
Muppetism - Animal (the percussionist)
Movie Mania - Kerminator
Archives - Uncle Deadly sketch

Did you know? - The Alice Cooper episode of The Muppet Show was Muppet Performer Steve Whitmire's very first show. Steve originated the character of Rizzo Rat on The Muppet Show and has performed Kermit the Frog since Jim Henson's death in 1990.

Volume 6
Episodes - Steve Martin, Carol Burnett, Gilda Radner
UK Skits - Gonzales & Yolanda, Pokey Polka, A Saucy Little Bird
Muppetism - Fozzie (da Bear)
Muppet Screen Test - I Love Lucy
Archives - Beaker sketch

Did you know? - The Steve Martin episode of The Muppet Show features the Flying Zucchini Brothers, the human cannonball act. Their vocabulary consists mostly of Italian food and names of Italian people: "Gina Lollobrida! Linguini!! Funicello!!" The Flying Zucchini's were an homage to the Zacchini Brothers - a real life human cannonball act.

Volume 7
Episodes - George Burns, Dom DeLuise, Bob Hope
UK Skits - Wotcher Knocked 'Em in the Old Kent Road, Henrietta's Wedding, Long Long Ago
Muppetism - Kermit "Frog In Your Throat"
Movie Mania - From Here to Eternity
Archives - Bob Hope's horse sketch

Did you know? - Repeated use of the line "Gonzo fiddles while George Burns" is an excellent illustration of Muppet Show head writer Jerry Juhl's axiom: "A joke that isn't good enough to use once may be bad enough to use several times."

Volume 8
Episodes - Diana Ross, Brooke Shields, Rudolph Nureyev
UK Skits - Feelings, Smiling/Happy Medley, Something's Missing
Muppetism - Miss Piggy (le Pig)
Movie Mania - Dances With Wolves
Archives - Pig Ballerina sketch

Did you know? - To make Brooke Shields grow or shrink, she was videotaped on a blue background while the camera zoomed in or out. This image was then superimposed against the full-sized set. For one scene, to make Brooke appear giant-sized, she squeezed into a miniature dressing room set.

Volume 9
Episodes - James Coburn, Sylvester Stallone, Debbie Harry
UK Skits - Do the Birdwalk, Lady Be Good to Me, Beetle Song
Muppetism - Gonzo (the Artiste)
Movie Mania - Silence of the Lambs
Archives - Betsy Bird sketch

Did you know? - A snippet of the Sylvester Stallone episode was used in Rocky III to show how famous Rocky had become since winning the title from Apollo Creed in Rocky II. For the film, Jim Henson dubbed in a new introduction: "It's The Muppet Show... with our very special guest star... Rocky Balboa!"

Volume 10
Episodes - Roger Moore, Edgar Bergen, Danny Kaye
UK Skits - How High the Moon, Show Me a Rose, Jogging
Muppetism - Waldorf (the crook) & Statler (the bum)
Movie Mania - Cat On a Hot Tin Roof
Archives - Louis Kazagger sketch

Did you know? - Edgar Bergen and Charlie McCarthy made their final film appearance in The Muppet Movie. Bergen died shortly after the shoot and Jim Henson dedicated the film to his memory. When Kermit spoke at Bergen's memorial, he said, on behalf of puppets everywhere, "Thanks for everything you've done for my people."

Volume 11
Episodes - Roy Rogers & Dale Evans, Kenny Rogers, Mac Davis
UK Skits - A Four-Legged Friend, Knees Up, Mother Brown, Jesu Joy of Man's Desiring
Muppetism - Beaker (the guinea pig) and Bunsen (the scientist)
Movie Mania - The Horsewhisperer
Archives - Rowlf sketch

Did you know? - The closing campfire medley in the Roy Rogers episode concludes with "Happy Trails". In 1950, Dale Evans wrote this classic song 40 minutes before a radio show went on the air because she felt Roy needed a theme song.

Volume 12
Episodes - Liberace, Rita Moreno, Lynda Carter
UK Skits - She Wants to Sing in Opera, To Morrow, Kermit talks to Sam backstage
Muppetism - Gonzo (the… ???)
Movie Mania - What's New, Pussycat?
Archives - Marvin Suggs sketch

Did you know? - The Rita Moreno episode of The Muppet Show includes one of the first installments of Veterinarian's Hospital. In this sketch, Richard Hunt provides the voice of Miss Piggy (as Frank Oz was performing Fozzie on the operating table). Later on, the sketches were polished into seamless wall-to-wall punfests and almost exclusively written by Don Hinkley.

Volume 13
Episodes - Tony Randell, Beverly Sills, Pearl Bailey
UK Skits - I've Got a Lovely Bunch of Coconuts, An Opera Number
Muppetism - Rizzo (the vermin american)
Movie Mania - The Good, The Bad, and The Ugly
Archives - Pops sketch

Did you know? - Guest stars on The Muppet Show were always given the chance to do something they don't usually do. Head writer Jerry Juhl remembers calling Beverly Sills to ask the opera star what she wanted to do on the show. "I'll do anything you want," she replied and then volunteered that she knew how to tap dance. Not only did she tap dance on The Muppet Show, she also hung a spoon on her nose!

Volume 14
Episodes - Liza Minnelli, Madeline Kahn, Mummenschanz
UK Skits - Pass that Peace Pipe, New York State of Mind, When I'm Not Near the Fish I Love
Muppetism - Pepe (the shrimp) er (the King Prawn)
Movie Mania - Planet of the Apes
Archives - Dog Lion sketch

Did you know? - Both Liza Minnelli and Madeline Kahn also appeared in Muppet Moves. Madeline Kahn played Telly Savalas' "myth" in The Muppet Movie and Liza Minnelli appeared in The Muppets Take Manhattan, after Kermit replaced her caricature at Sardi's with one of himself.

Volume 15
Episodes - Senor Wences, Lola Folana, Juliet Prowse
UK Skits - Beauregard's Puppet Show, I'm Gonna Wash That Man Right Out of My Hair, You and I and George
Muppetism - Bobo (the bear)
Movie Mania - A Fish Called Wanda
Archives - Miss Piggy sketch

Did you know? - The Juliet Prowse episode with is officially listed as Muppet Show #1, was one of the two "pilot" shows produced in January of 1976 (the other starred Connie Stevens). Although The Muppet Show had already been given the green light for a full 24-episode season, these pilots were needed to help sell the syndicated show to local television stations. Although the Juliet Prowse show was the first produced it was not the first episode aired.

Special thanks to Habidabad for the "Did you know" summaries on volumes 1-10.

Discover what you may be missing!
Learn the differences between widescreen and pan-and-scan DVDs.