The Muppet Show: Music, Mayhem and More CD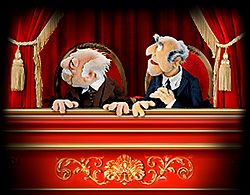 Cindy Chapman (9-10-2002) - If there was ever to be an album that best represented Muppet music over the past 25 years, this is it! Aptly titled, "The Muppet Show: Music, Mayhem, and More!" this CD is a compilation of Henson music that paints a wonderful picture of everything that represents the Muppets.
Although not comprehensive (it is only one CD after all), there is a huge variety of music covering nearly all the Muppet spectrum. From the early days of The Muppet Show to the more recent Muppets From Space, fans can fill their plate with all sorts of Muppet goodies. Chock full of 27 tracks, this album has something for everyone. There's classic favorites such as "Bein' Green" and "Mahna Mahna", and rarely heard songs such as Gonzo's "Wishing Song" and the Electric Mayhem's "Tenderly".

Fourteen songs are from The Muppet Show and thirteen tracks are from the Muppets six feature films. One note about this CD that makes it stand out from all other Muppet discs is the addition of three songs from "The Muppets Take Manhattan". Never before released on CD are "Together Again", "I'm Gonna Always Love You", and "He'll Make Me Happy". These Manhattan tracks capture the spirit of the Frank Oz directed film and never sounded so good in remasterd digital auido.
As if a jam packed CD wasn't enough, Rhino has included a 20-page CD insert booklet with a heart-felt introduction by the producer Craig DeGraff, a fellow Muppet fan. Through this introduction we understand a bit more why this collection was conceived. If tearing up during a Muppet movie makes you a Muppet fan, than Mr. De Graff is definitely one of us. His love and passion for the Muppets is obvious, I mean who of us didn't spend their allowance for the Muppet Movie soundtrack when they were little or wear out multiple copies one after another? The next 12 pages include a commentary by Henson veteran and writer Craig Shemin (who was the second day host at MuppetFest) along with a very nice variety of Muppet photographs.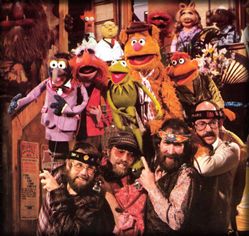 Mr. Shemin takes us through the musical history of the Muppets with quotes from Muppeteer legends such as Dave Goelz, Jerry Nelson, and even Frank Oz. This album is also blessed with words from the infamous Muppet head writer Jerry Juhl. Paul Williams also discusses his work as composer for The Muppet Movie and his work with Emmet Otter's Jug Band Christmas (sadly omitted from this particular CD). And we certainly couldn't talk about music without mentioning Joe Raposo and Jeff Moss. These two extremely talented musicians highly influenced the musical styles of the Muppets since the early days of Sesame Street.
As a long-term Henson fan, it would've been fantastic to have had a few tracks on this album that have "never" been released on CD or vinyl. A few unreleased Muppet Show tracks would have been marvelous. Maybe that's a possibility if a future volume is released. Even though Rhino used a three-year old cover photo that has been used on a lot of merchandise lately, fans will love some of the photos inside the 20-page companion booklet.
If you own only one Muppet CD in your life, it has to be this one! Since the inception of CD-R's Muppet fans have been dubbing their own CD's from old releases. Now, Muppet fans don't need high-tech equipment, Rhino has done all the work for you. With 27 tracks of beautifully digitally re-mastered Muppet hits, this is the ultimate for any Muppet fan.
"Music, Mayhem and More", is perfect for any occasion. Take it with you everywhere and expose your friends and family to the wonderful world of Muppet music. Thanks Rhino!