Disney in talks to buy Muppets
Courtesy of Reuters
March 8, 2003
Mickey Mouse and Miss Piggy may get together after all.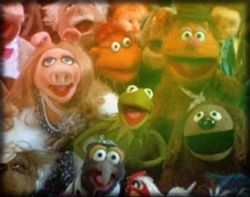 Walt Disney Co. and other contenders are back in talks to buy Kermit the Frog and his Muppet friends from Germany's EM.TV & Merchandising AG, sources familiar with the situation said on Friday.
A Disney spokesman declined to comment and EM.TV, which announced the end of another set of talks earlier on Friday, could not be reached immediately.
A deal would end a multi-year Muppet odyssey in which Kermit, Miss Piggy and their friends, the singing, acting and joke-cracking puppets created by the late Jim Henson, have looked for a permanent corporate home.
Disney has appeared on the verge of taking them in at least twice, including last December.
EM.TV paid $680 million for Jim Henson Co. in March 2000, after a deal between Disney and Henson fell through. EM.TV has since sold off chunks of the company, which also created Big Bird and other characters from the educational children's television series Sesame Street.
One source said a $70 million Muppet deal between Disney and EM.TV, which needs funds to make debt payments, could be announced as early as next week, but others said a deal was not that close and there were still other contenders.
EM.TV said earlier on Friday that it and a group of investors led by media executive Dean Valentine had called off talks on the sale of a 49.9 percent stake of the Henson U.S. subsidiary.
But Valentine told Reuters on Friday that he was talking about other ways to structure a Muppet deal with the German company. "We're very much in the middle and anticipate we will be successful," he said.
The source who expected a deal shortly said Disney had offered $70 million in cash for the rights to the Muppet movie catalog and characters but not for Henson's special-effects workshop, the Creature Shop.
But another contender for the Muppets, Classic Media, is still in talks to buy a minority stake of Henson, sources said, and billionaire Haim Saban was seen as potentially interested, although he has been focused lately on a separate bid to acquire insolvent German television group KirchMedia.
Disney already has Muppet attractions at some of its theme parks and has cooperated on some of the Muppet movies. Kermit and Miss Piggy would join a pantheon of characters that Disney created or controls, including Mickey Mouse, Winnie the Pooh and Snow White and the Seven Dwarfs.
Shares of Disney rose 7 cents to $15.72 on the New York Stock Exchange on Friday.