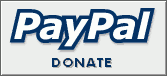 Frequently Asked Questions - Muppets

1. What Henson shows are currently on TV?
The following TV schedule is for the United States. If you have an update or correction to this schedule, please post them in our discussion forum. Times are listed in central standard time (eastern is one hour later). If you have questions about international airings, please ask them in our discussion forum.
Sesame Street
Daily: Check local PBS listings for times
Play with Me Sesame
Weekdays: 7:00 am, Noggin
Sesame Street (Reruns since 1999)
Tuesday-Friday: 4:00 am
Weekdays: 8:00 am
Bear in the Big Blue House
Weekdays: 5:30 am, Disney Channel
Weekends: 5:30 am, Disney Channel
Farscape
Monday: 12:00 am, Sci-Fi Channel
Friday: 3:00, 4:00, 5:00 am, Sci-Fi Channel
Animal Jam
Weekdays: 5:00 am (The Learning Channing)
Weekdays: 6:30 am and 9:30 am (Discovery Kids)
These Henson programs are not currently airing in the United States: The Muppet Show, Fraggle Rock, Muppet Babies, Dinosaurs, Jim Henson's Animal Show, The Wubbulous World of Dr. Seuss, Muppets Tonight, Telling Stories with Tomie dePaola, and Donna's Day.

2. Who are the two old guys in the balcony?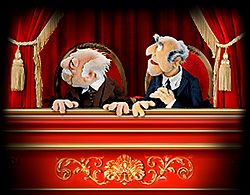 Statler and Waldorf are the incorrigible comedy duo who make heckling their life. Even while dodging various flying Muppets and Lew Zealand's Boomerang Fish, taunting barbs and sarcasm would always prevail. Statler is the taller, thinner one sitting on the right as we look at them in their Muppet Show box. Waldorf, on the left, has a round head and is shorter.
Statler and Waldorf were performed by Richard Hunt and Jim Henson respectively on The Muppet Show. However, due to the untimely deaths of these gentlemen, they are now currently performed by Jerry Nelson and Dave Goelz. Jerry Nelson originally performed Statler in the Muppet Show pilot Sex and Violence.
Their names originate after hotels in New York City. Waldorf's wife is even named Astoria, after the famous Waldorf-Astoria Hotel.

3. How did the word "Muppet" originate?
In a 1982 interview, Jim Henson shared that "I think we did the term Muppets before we got the show Sam and Friends - a few months after I started working. It was really just a term we made up. For a long time I would tell people it was a combination of marionettes and puppets but, basically, it was really just a word that we coined. We have done very few things connected with marionettes."

4. How can I acquire a REAL Muppet?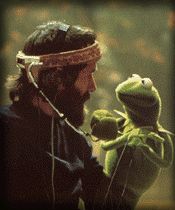 Lots of people ask this question and unfortunately they are not available. Muppets are typically either stored away, destroyed after a period of time, or rebuilt into another character. Henson is very protective of their character copyrights and patents and that is why they must take legal action upon anyone who is reproducing their characters.
Jim Henson discussed this in a 1982 interview. "Actually the copies of characters is something I don't particularly like to talk about in articles but just for your information, most characters there's only one. Somebody like a Piggy or a Kermit, there needs to be several versions and so there will be several of them. I'm not even sure how many because often we'll also have a photocopy – a character that's made that we use just for posing for photographs. It would be armatured, that sort of thing, but I don't think it's good to talk about that particularly. I remember hearing that there were several Lassies, and I never liked knowing that sort of thing."
"... actually, they're basically all in storage. We have all of that stuff together. We don't release Muppets out hardly ever. There's one Kermit in the Detroit Institute of Arts and Ernie and Bert in Washington and that's about all."

5. What are the addresses of The Jim Henson Company?
Disney's address for the Muppets Holding Company is:
The Muppet Holding Company
1201 Grand Central Avenue
Glendale, CA 91201
Here are some helpful Henson addresses:
The Jim Henson Company
1416 North La Brea Avenue Hollywood, CA 90028

Jim Henson's Creature Shop
2821 Burton Avenue
Burbank, CA 91504

The Jim Henson Company
30 Oval Road
Camden, London NW1 7DE

Jim Henson's Creature Shop
30 Oval Road
Camden, London NW1 7DE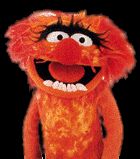 Here are a few more addresses that you may find helpful:
The Jim Henson Company Fan Mail (For Performers & Muppets)
P.O. Box 20726
New York, NY 10023

Sesame Workshop
1 Lincoln Plaza, 2nd Floor
New York, NY 10023

Jim Henson Foundation
627 Broadway, 9th floor
New York, NY 10012
Our links section has a list of the official Henson Web sites.

6. Does Disney own the Muppets?
Even though Disney began pursuing ownership of the Muppets in 1989, it wasn't until February 17, 2004 that Disney's dream became a reality.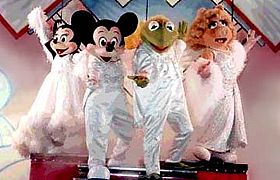 The 1990 merger between Jim Henson and Disney never took place due to Jim's untimely death. At that point, Brian Henson (Jim's son) took over the corporation with David Lazer acting as CEO of the company. On February 21, 2000, Germany's EM.TV and Merchandising AG announced they were buying The Jim Henson Company for a reported $680 million. By the end of 2000, EM.TV's stock had dropped 90% and the Henson Company was once again up for sale, a process that would last more than two years.
On May 7, 2003, Jim Henson's children (Brian, Cheryl, Lisa, John and Heather) bought back the Jim Henson Company from EM.TV for a closing cost of $84 million. EM.TV, however, had sold the rights to the Sesame Street characters to Sesame Workshop for $180 million, and partial ownership rights of several cable channels including Noggin, Odyssey (now The Hallmark Channel) and the defunct Kermit Channel.
Nine months later on February 17, 2004, the Henson family sold the rights to the Muppets and Bear in the Big Blue House characters to the Walt Disney Company for an estimated $45-60 million. The Jim Henson Company continues to exist without the Muppets creating new productions and retaining ownership of the Creature Shop, fantasy properties (such as The Storyteller, Dark Crystal, Labyrinth) and other puppet properties (like Fraggle Rock, Hoobs, Mopatop's Shop, Mother Goose Stories, The Ghost of Faffner Hall and Emmet Otter's Jug-band Christmas).

7. Who are the new performers of the Classic Muppet characters?
Ever wonder who are the new performers of your favorite characters? Puppeteers are sometimes replaced when a performer passes away (as in the case with Jim Henson and Richard Hunt) or when a performer can't puppeteer a character full-time (as with Frank Oz and his directing career).
Here is a list of Muppet performers with the original puppeteer listed and who is currently performing the character. If a major character isn't listed then the character is still performed by the original puppeteer.
Classic Muppets
Kermit (Jim Henson 1955-1990, Steve Whitmire 1990-present)
Miss Piggy (Frank Oz 1976-present, Eric Jacobson 2001-present)
Fozzie Bear (Frank Oz 1976-present, Eric Jacobson 2002-present)
Beaker (Richard Hunt 1977-1992, Steve Whitmire 1992-present)
Sam the Eagle (Frank Oz 1975-present, Kevin Clash 2002, Eric Jacobson 2005-present)
Dr. Teeth (Jim Henson 1975-1990, Dave Goelz 1996, John Kennedy 1999-2002, Bill Barretta 2005-present)
Rowlf (Jim Henson 1962-1990, Bill Barretta 1996-present)
Swedish Chef (Jim Henson 1975-1990, David Rudman 1992, Bill Barretta 1996-present)
Statler (Jerry Nelson 1975, Richard Hunt 1976-1992, Jerry Nelson 1992-2004, Steve Whitmire 2005-present)
Waldorf (Jim Henson 1975-1990, Dave Goelz 1992-present)
Scooter (Richard Hunt 1976-1992, Adam Hunt 1999, Brian Henson 2002, Rickey Boyd 2005-present)
Janice (Fran Brill 1974-1975, Eren Ozker 1976, Richard Hunt 1977-1992, Brian Henson 2002-present)
The Newsman (Jim Henson 1976-1990, Brian Henson 2001-present)
Sweetums (Richard Hunt 1970-1989, John Henson 1989-present)
Link Hogthrob (Jim Henson 1976-1990, Steve Whitmire 1996-present)
Sesame Street
Ernie (Jim Henson 1969-1990, Steve Whitmire 1993-present)
Bert (Frank Oz 1969-2000, Eric Jacobson 2000-present)
Big Bird (Caroll Spinney 1969-presnt, Matt Vogel 1999-present)
Grover (Frank Oz 1969-present, Eric Jacobson 1999-present)
Cookie Monster (Frank Oz 1969-present, David Rudman 2000-present)
Mr. Snuffle-upagus (Jerry Nelson 1971-1979, Marty Robinson 1980-present)
Two-Headed Monster (Jerry Nelson and Richard Hunt 1980-1992, David Rudman and Joey Mazzarino 1999-present)
The following characters have not been permanently recast, but different performers have performed them and helped out from time-to-time for specific programs or specials. In these cases, the specific show where the performer played a character is included.
Animal (Frank Oz 1975-present, Kevin Clash 1996 [Sandra Bullock episode of Muppets Tonight], Eric Jacobson 2002 [It's a Very Merry Muppet Christmas], John Kennedy 2003 [Muppet Party Cruise], Eric Jacobson [The Muppets' Wizard of Oz])
Lew Zealand (Jerry Nelson 1978-present, Bill Barretta 2002 [It's a Very Merry Muppet Christmas])
Ernie (Jim Henson 1969-1990, Steve Whitmire 1993-present, John Tartaglia 2003 [Play With Me Sesame])

8. Why doesn't Frank Oz still perform his characters?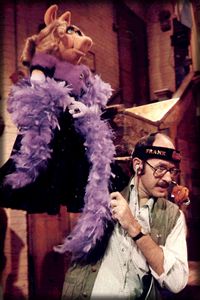 Since the early eighties, Frank Oz began to embark on a second career as a film director. In addition to co-directing The Dark Crystal (1982) and directing The Muppets Take Manhattan (1984), he's since directed numerous films including Little Shop of Horrors (1986), Dirty Rotten Scoundrels (1988), Housesitter (1992), Indian in the Cupboard (1995), The Score (2001), and many others.
Throughout the late 80's and 90's as Frank dived further into the movie business, it became difficult for him to balance Muppet projects and film projects. It really shows in the writing that they are trying to work around Frank's schedule (in Muppets Tonight especially). By the time they did 1999's Muppets From Space, Frank only shot a few key scenes and the rest of the scenes with his characters (which were pretty extensive in this film) were puppeteered by others with Frank looping the voices later.
This brings us to Eric Jacobson. Flash over to Sesame Street where Frank does Bert, Grover, and Cookie Monster. Again, it had become traditional for Frank to do around four days of taping bits for Sesame Street each year. The producers of Sesame wanted to really bring the focus of the show back to its core classic characters in 1998 with season 30 (after the show had become so large with peripheral characters due to season 25's extending the show "around the corner").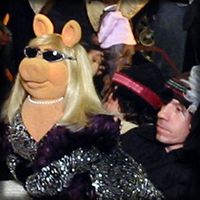 Eric Jacobson had done a few smaller Bert and Grover sketches and because of his amazing talent with these characters started to do them more frequently. It seemed like they had finally found someone who can do these integral characters when Frank was unavailable. (Beginning in 2000 David Rudman has since taken over Cookie Monster when Frank is unavailable). Since Eric had done so well with the Sesame characters, it was only a matter of time before they had him try the Muppet Show characters. His taped greetings of Miss Piggy had over 90% of core Muppet fans fooled into thinking it was Frank at the first Muppet fan convention, MuppetFest in December 2001.
Frank still performs characters when he can. Even on recent seasons of Sesame there are scenes Frank has done himself. For example, he sometimes plays Cookie while Eric does Grover in the same scene. Now that the characters are in excellent hands, Frank probably feels more comfortable about being able to have to bounce back and forth less.
The thought of recasting characters can sometimes be a sad and sensitive topic, but given how long the Muppets (and their performers) have been around, it eventually becomes a necessity. Given the talent of the younger members of the team, it looks like the Muppet cast is stronger than ever and really ready to move forward.

9. Do the names of Ernie and Bert come from "It's a Wonderful Life"?

No, Sesame Street's Ernie and Bert were not named after Bert the cop and Ernie the taxi driver from the 1946 movie "It's a Wonderful Life". Even though many people believe they were named after these characters, Sesame Street writer Jon Stone has attested that this similarity is purely a coincidence.

10. Hasn't another performer passed away besides Jim Henson?
Richard Hunt died in January 1992. He was the talented man behind Scooter, Janice, Statler (one of the old men in the balcony), Sweetums, and Beaker. Even though these characters are rarely seen today, Adam Hunt (Richard's brother) did the voice for Scooter in Muppets From Space. Our Richard Hunt Tribute has information on his career from puppeteers and fans alike.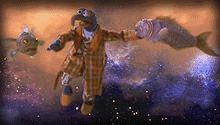 11. What IS Gonzo?
Fans have been asking this question for years. Even though he has been referred to a "whatever" for almost 20 years, the 1999 film "Muppets From Space" revealed that Gonzo is an alien. Believe it or not.


12. I heard about a new Muppet Show. What is it exactly?
Now that Walt Disney owns the rights to the Muppet characters, if the upcoming Muppets Wizard of Oz movie does well in the fall of 2004, it is possible we might see a new weekly series in 2005 or 2006 to coincide with the 50th anniversary of the Muppets. However, Henson has been trying to get a new Muppet series off the ground for a number of years without success.

The German media group EM.TV and Merchandising AG which bought the Muppets, announced in March 2000 that they were planning to revive The Muppet Show, 25 years after it first premiered in 1976. However due to the crash of EM.TV's stock, the show was permanently put on hiatus.
In the Spring of 2002, Fox announced they would produce the show. However, once again due to company buyouts in May 2003 (by the Henson family) and February 2004 (by Walt Disney), this new series was put on hold.
Let us know what you think about the possibility of a new show in our discussion forum. If you'd like to know the latest news about the new Muppet Show be sure to sign up for our mailing list.


13. Where can I visit museums or exhibits about Jim Henson's work?
Check out our reviews for some of the Henson exhibits that fans have visited. Recently "The Vision of Jim Henson" exhibit was touring across America.

14. What Henson employees made cameo appearances in the Muppet movies?
The Muppet Movie
Richard Hunt and Jerry Nelson are seated inside the El Sleazo
Frank Oz wearing motorcycle gear in the El Sleezo Cafe
Steve Whitmire stands in the crowd as an on-looker of the beauty pageant at the County Fair
Jim Henson is one of the bad guys trying to shoot Kermit in the western scene
The Great Muppet Caper
Richard Hunt as a taxi driver during "Hey a Movie"
Frank Oz runs into the press room just as Gonzo yells "Stop the presses!"
Jim Henson and Amy Van Gilder (designer) sit in the Dubonnet Club
Jerry Nelson and his real-life daughter Christine as they pass Kermit holding Piggy's shoe
Brian Henson rides a trike pulling a line of Muppets on bicycles during "Couldn't We Ride"
The Muppets Take Manhattan
Kathy Mullen helps Miss Piggy after her purse is stolen
Jim Henson as the horse and carriage driver
David Lazer in Sardi's Restaurant
Heather Henson at the Bavarian festival serving drinks
Frank Oz at the board meeting for "Ocean Breeze Soap"
Fran Brill as a reporter
Muppet Treasure Island
Jerry Nelson as Squire Trelawney's butler
Muppets From Space
Steve Whitmire as a hippie giving Bunsen and Beaker a ride
Peter Linz, Drew Massey, Rickey Boyd, and John Kennedy as Gonzo followers at the beach
Go back to Frequently Asked Questions.

Section compiled by Phillip and Cindy Chapman
With contributions from D. W. McKim (#8 Frank Oz)