Remembering Richard Hunt
''It's impossible to imagine a world without Richard.''
- Jon Stone, Sesame Street Director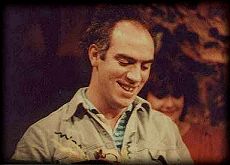 Richard Hunt
August 16, 1951 - January 7, 1992
If Jim Henson is remembered as the "gentle genius" behind the Muppets, then Richard Hunt can be characterized as the "consummate performer." He not only performed on camera, but throughout every day of his life. If Jim was the head, the mastermind of the Muppets, then Richard was the heart. He always strove to have the time of his life with each performance. Sometimes I think the performance and fun was more for him, even though all of us were watching.
For me, there was something special about watching Scooter. I think it was the fact that Scooter was often "watching all the craziness" that was going on, almost from the perspective of an observer. Scooter was young (like Richard) and he just wanted to be a part of the craziness. I think in a way, we all would love to be that close to the mayhem and the magic. A lot of Richard's personality also shone through as Junior Gorg on Fraggle Rock. The silliness and playfulness that was Richard was the perfect characterization for Junior.
Sadly, very few tributes (or even acknowledgments) have been given to honor Richard Hunt and his family. His unfortunate death, due to complications of the AIDS virus, has been largely overshadowed and overlooked (especially in light of the death of Jim Henson). However, Richard contributed to the Muppet family much more than the wonderful characters he performed. Maybe, his biggest contribution was his joy for life, his ability to not take himself too seriously, and his ability to always be ready to perform for whoever was nearby. He genuinely cared for people, in a way that few do today.
I believe that attitude of "craziness" that Richard exhibited was contagious among the Henson performers. It transferred to the mayhem onscreen, and also to the mayhem in all of our lives.
- Phillip Chapman, Muppet Central Webmaster

Articles
Obituary
The Advocate #596, February 11, 1992
Muppeteer loses battle with HIV
By Matt Roush, USA TODAY - January 9, 1992

Memories