Remembering Richard Hunt
By Terry Angus
Working with Richard for all five years on Fraggle Rock and a few Muppet specials was a lot of fun and a very special time.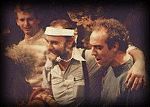 Richard would be our teacher, he would be our coach, then he would turn around and be the clown. I think Richard, deep down wanted to be a stand-up comedian. The way he took about an hour to entertain the audience for the special we did called "The Fantastic Miss Piggy Show" had the crowd in stitches. I wasn't there for the audience part of the show, just the control room scenes. I heard about it from Karen Prell. Karen also showed me a photo of Richard entertaining the crew for the "John Denver Rocky Mountain Holiday" special. Richard could also be tough too. He would tell you where it was at, in a very direct way.
I remember the first time I met Richard at the Fraggle Rock auditions. Richard was to pick the ones he thought were good enough for a second audition to show Jim Henson himself. I remember waiting for my turn to go in. I was 18 or 19 at the time and my mother made the trip with me. We were right in front of the door to the room where Richard was holding the auditions. The door opened and a girl comes out shaking and muttering "That guy is crazy! That guy is crazy!!" My mother leaned over to me and said, "If they want crazy, you give them crazy." It was my turn. I went in and Richard was in my face barking questions like a drill Sargent. "HI I'M RICHARD HUNT!" Richard Hunt? I thought... it's Scooter, Janice, Statler, Beaker, and a lot of others we've grown up and learned from.
"Where ya from!!! Stand over here for a picture! Ok, let's see your stuff!" I did. I brought out my home made puppets and Richard would yell questions to them. Finally I brought out my home made Kermit puppet and told Richard in my best Kermit voice, "Ah, excuse me Mr. Hunt, but I don't think you should be taking that tone of voice with people." Richard shot back "Yeah, what are ya going to do about it, Frog!!!" I had Kermit recoil back "Ah!! Well I just... er, I mean...." then whimpered "Nothing....." Then Richard laughed "Jim's got to see this. Can you stay till Friday to see Jim?" And I did.
Richard was acting the way he did to see if the new performers could handle stress. In TV you have to be able to handle stress. I remember the first season of Fraggle Rock was shot in the summer and it was hot. Richard was going around the set during a scene shooting people with a squirt gun. Yes, he got me during a song we where lip synching to. I'll never forget the evil smile as the water would hit you. We all got Richard back during the break with a garden hose. He was soaked.
I was very saddened when I heard from Karen Prell that Richard had passed away. After we talked about Richard I hung up the phone and played a song Richard did as Junior Gorg called "How Wide, How Far, How Long" from the last Gorg episode "The Gorg Who Would Be King" A very beautiful song. To me "How Wide, How Far, How Long" is to Richard Hunt what "The Rainbow Connection" was to Jim Henson. I will never forget you Richard Hunt, and we will always miss you.

How Wide, How Far, How Long
Performed by Junior Gorg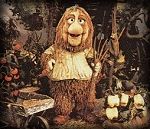 I know the Universe is everywhere.
It's full of radishes and things.
It's full of air.
But when I try to understand,
I always wonder in despair.
How wide, how far, how real it is.
And if the Universe is made like me,
It must get lonely in the dark and ask for tea,
And is there anybody here who really knows just how to see,
How wide, how far, how real it is?
The universe is real but no one will reveal,
How wide, how real it is.