Remembering Richard Hunt
By Chris Smigliano
"What we're doing here, basically, is what everyone else wants to do, and that's to act crazy, except we get paid to do it."
- Richard Hunt, 60 Minutes
As much of a genius Jim Henson was, he, as the saying goes, only had two hands. He needed people inherently talented and weird (in a quiet sort of way ) as he was. He found one of them in a young cutup from New Jersey named Richard Hunt.
As much as we love all the Muppet characters (I can't think of anyone in their right mind - if "right mind" can apply to Muppet fans - that wouldn't love Kermit), face it, we DO have our favorite characters, and it would be perfectly normal to want to know about the talent that brings your favorites to life.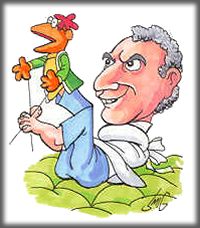 For me, it was Beaker. This character both strange and unique, appealed to me in some way I could not explain.
Back in 1981, shortly after THE MUPPET SHOW ended, I got a copy of the book OF MUPPETS AND MEN, which I devoured like Sweetums eating a bunny rabbit. I got to the chapter JERRY, RICHARD, and DAVE, and although I was impressed by all, Hunt seemed a little more open than the others. Who would've thought the Muppets would've needed a class clown?
I do cartooning on the side, but it was Richard Hunt's handling of Beaker that first got me thinking seriously about characterization. What makes a character act like he does? How would he think? I tried to figure out why I liked Beaker so much and put it into words. I ended up writing five pages.
I decided to send the paper to The Workshop as an overdone fan letter. I also added a few pages of artwork with it. Some months later I got a letter from the Muppet Workshop saying that the staff enjoyed it and they sent it on ahead to Richard Hunt. A few more months later, I got a letter from Jerry Juhl saying he thought it was, hands down, the best fan letter about a Muppet character ever (I still have these letters today!) and that Richard Hunt tried to call me, but my phone number was unlisted.
I sent another letter with my number to Juhl and he wrote back that he had sent it on to Hunt. (Hey, why pass up an opportunity?)
We come now to February, '82, 10 PM at night. The phone rings. I answer the phone to find this young voice saying "Guess Who?" Then he starts humming the MUPPET SHOW THEME. "Richard Hunt?" I gasped, and it was.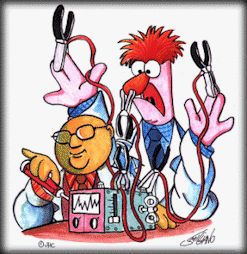 I'm sorry to say at this point I got so excited that I turned into a stammering fanboy, but Hunt was very understanding and patient. In fact, I was totally amazed by how he came across over the phone. His voice sounded so young and energetic. He was so friendly, and funny. He was the type of guy that you'd really want to know. He also appreciated the finer points of my letter, especially the fact that I don't think Beaker is as stupid as others think. "Not many people realize that" Hunt told me. Hunt even had Beaker come to the phone for me.
Richard Hunt eventually had to go, but he told me that he'd hoped we'd meet someday. But sadly, that was not to be.
The years passed. I graduated High School, had gone through art school, and got my first strips published in the meantime. I was at my day job at the hospital. I was on my way back from break, reading TIME magazine.
I glanced down at "TRANSITIONS" and read this three words.
"DIED: Richard Hunt."
I stopped in my tracks.
My heart filled with sadness. I read it again. It was there. First Jim, and now Richard? I felt like something that had been a big part of my life was crumbling. We not only lost a talent, I lost a dream.
There was very little media notice of Richard Hunt's death. I made up a special condolence drawing, Beaker shedding a tear, and sent it off to The Jim Henson Company as a tribute. Below the drawing I had written:
To the Hunt family and the people of Jim Henson Productions
Like Henson before him,
He was one of great talent
Thanks for all the laughter, Richard
Those words still hold true today.
Thanks again, Richard.