Remembering Richard Hunt
By Quinn Rollins
Like many things in life, I only become aware of the value of something when it's gone. Jim Henson's death was the catalyst that pushed me over the edge from the normal "I like the Muppets" category into the dangerous waters of Muppet obsession, where we're all treading happy water right now. (Happy water? Yeah.)
The same thing happened with Richard's death. I always enjoyed his characters, but didn't ever LOVE any of them... now, with many Muppet productions and hundreds of Sesame Street episodes without Richard's characters, I'm finding how keenly I miss his contributions, and how much he really rounded out the family of Muppet characters.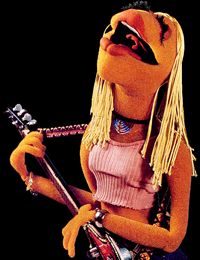 I already wrote the tribute to Janice that's on Muppet Central, so you all know how I feel about her... a great puppet who became a great character, who's been languishing in Muppet limbo since Richard's passing.
Another core character I didn't ever like much as a kid was Scooter. He's a character I'm growing to love now. I get excited when I see he's going to be in a number because I love his singing voice--it sticks out among the Muppets with it's sweetness and clarity. I re-watched the Star Wars episode a few weeks ago, and Scooter sings a number called "Six-String Orchestra" that I felt like I'd never seen before. That's a great song, and Scooter WAS a great character. As much as I'd like to see all of the other characters brought back, I can see the case for retiring him. Even before Richard's passing, I identified Scooter with Richard. It would be very hard to see someone else playing Scooter. Then again, if I could handle someone else performing Kermit...
Richard also took the monster Sweetums and made him... well, sweet. He used to terrify me when I was a pup, but now I can just be entertained by him. Statler was a great character, and is lauded even by the most casual Muppet fans.
Richard's characters probably had the most influence on me through Sesame Street... child of the 70's that I am. I was listening to the Best of Sesame 2-CD set the other day, and played Placido Flamingo's two operas over and over and over. And then sang them over and over and over. My friends and family LOVED me that day.

I also enjoyed Forgetful Jones, who my ex-supervisor at work reminds me more and more of every day..."you needed today off? Huh. I fergot!" Forgetful, Buster, and Clementine taught me that it's okay to be a little dim sometimes, because it makes for good comedy. I liked Forgetful a lot. Then there's Gladys the Cow, who would pop up everywhere from Sesame Street News to the street scenes, and Don Music (I was ONE of those kids they talk about in Sesame Street Unpaved... my first piano lesson was also my last).
Richard was a great performer who didn't always get the biggest name characters, didn't always get to see his characters immortalized in plastic as toys, but who always put everything into every performance, and from what I've seen and read about him, into life itself.
Thanks, Richard, for everything you've given to me.