Remembering Richard Hunt
By Josh Hankemeier
He was silly, eccentric, and always goofing around. That's how I remember Richard Hunt. Of course I never met him (being just a fan and all) but that's what his characters were like, and I enjoy all of Hunt's characters.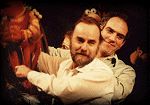 I miss him. I really do. True, his death was overshadowed by Jim Henson, his Scooter is somewhat retired, and his passing was all hush-hush. I can understand that. A lot of parents and kids would know Jim Henson's name, but very few would recognize Richard's name, since many of the puppeteers remain behind the scenes (with the exception of Oz and possibly Clash). However, I also feel that the public should know who Richard Hunt was and what he contributed to the Henson family of creatures.
I thought about my tribute to Richard, and instead of grieving over his absence, I would write about a fond memory relating to my favorite Richard Hunt character... Junior Gorg. It's a silly tribute to Richard, and I hope everyone who reads this (including Richard) gets a kick out of it:
One afternoon back in 1992, my younger sister Amanda was watching Fraggle Rock ("A Dark and Stormy Night") in our kitchen. Being a curious 10 year-old, she decided to replicate a batch of Junior Gorg's garlic popcorn, using ALL the ingredients.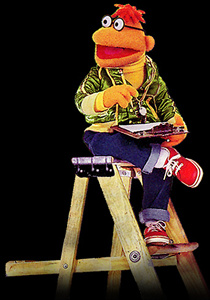 Now, this was only a few months after Richard's death, and I had been depressed for a long time. From my room I could hear Junior Gorg muttering to himself and crashing things aside in the castle from the TV. It was good to hear Junior. Coming out of my room, I went to the kitchen, where Amanda stood, her back to me, with a large bowl of popcorn on the counter. The smell of garlic salt hung in the air. She was wrestling with a jar of Skippy, about to yank out a globby spoonful. "What are you doing?" I asked. I startled her accidentally, and in surprise, the spoon flew from her hand and stuck... to the ceiling.
We both stared at the tan blob overhead, and the spoon dropped to the counter, leaving a ping-pong ball sized splotch of Skippy on the ceiling. I was about to look for something to scrape up the mess with when suddenly Junior appeared on the TV, ambling into the castle parlor with his popcorn. "I hope Ma doesn't notice the peanut buttoh on da ceiling! Da huh huh huh!"
My sister and I looked at each other and began to laugh hysterically. Junior chuckled, too... almost along with us, it seemed. Since we both admired Richard for his outstanding performance as Junior, we thought it be appropriate to leave the peanut butter right there on the ceiling... where it belonged, in tribute to Richard. By the way, OUR "Ma", never noticed the "peanut buttoh" on the ceiling either, and we hope, for Richard's sake, she won't!