Henson's adult "Late Night Liars" debuts June 10
Featuring a Raucous Panel of Uncensored Puppets and Actor-Comedian Larry Miller as Host, Late Night Liars Premieres June 10, only on Game Show Network
Courtesy of The Jim Henson Company
June 2, 2010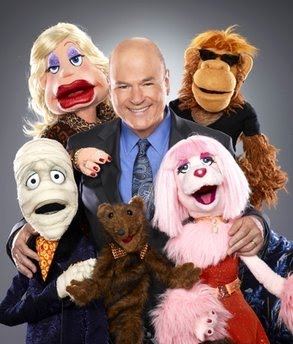 Make sure the kids are in bed because Henson puppets are about to unleash their inner tabloid personalities as GSN (Game Show Network) debuts Late Night Liars. The original new late night comedy game show, produced by Henson Alternative, is set in the glamorous, cocktail-soaked world of five outrageous puppets—who also happen to be celebrities. Actor-comedian Larry Miller ("10 Things I Hate About You," "Best In Show") serves as ringleader, er, host of the late-night shenanigans. Late Night Liars features the brilliant puppet design of Henson Alternative, a label of The Jim Henson Company for content specifically and exclusively for adults. Late Night Liars premieres on Thursday, June 10 at 11 PM (ET/PT), only on GSN.
Each night, two hapless human contestants face off against a panel of four "celebrity" puppets who are half-sauced and telling half-truths. Whichever contestant can distinguish fact from fiction best will escape with prizes and cash—but probably not their dignity. Unquestionably adult, irreverent and just plain hilarious, Late Night Liars is a riotous comedic panel game show in the grand tradition of "Match Game," "Hollywood Squares," "To Tell the Truth" and "The Gong Show."
"I look forward to working with GSN and Henson Alternative to carry on the wonderful tradition of game shows such as 'Hollywood Squares' and 'Match Game' that gave me so much pleasure as a kid. Jim Henson made a great discovery many years ago when he realized that pretending puppets are people is far easier than dealing with people who are puppets," said Miller.

The Late Night Liars panel of celebrity puppets includes:
Shelley Oceans, a comedienne, television personality and actress who was once the world's greatest insult comic—but that day has passed. Loved for her brash manner, Shelley is now a devoted game show panelist and is always ready with a cutting retort for the host, the contestants and of course, her fellow panelists—especially close friend and two-time ex-husband William A. Mummy.
William A. Mummy, a confirmed bachelor and bon vivant who "just can't seem to find the right woman." "Mister Double Entendre" is flamboyant, brash, and jittery—and he knows how to tie an ascot. Mummy's a fan of the finer things in life: fashion, gourmet food, and of course, the theater.
Cashmere Ramada, a world-famous celebutante and tabloid target. Cashmere has had dozens of mini-careers: singing, fashion design, perfume…and a few unfortunate video tapes that circulate on the Internet. She constantly inserts herself into charities she doesn't understand, thinking that "Save the Dolphins" was an effort to prolong the amount of time you could keep dolphin meat in the freezer.
Sir Sebastian Simian, a billionaire entrepreneur, adventurer, ladykiller and philanthropist. Sebastian balances his British charm and charisma with doses of snide, acerbic comments and a healthy sprinkle of intolerance. He also happens to be the smartest person in the room. Just ask him.
Late Night Liars is hosted by Larry Miller—with an able assist from THE WEASEL, a down-home, straight-talking, no-nonsense puppet rodent who is the show's good-natured scorekeeper and announcer.
As one of Hollywood's most recognizable faces, Larry Miller has appeared in more than 100 films and numerous television shows. He began his career with a memorable cameo as the brown-nosing store manager in "Pretty Woman" and has since gone on to delight audiences in roles in such movies as "Best in Show," "Waiting for Guffman," "The Princess Diaries" I & II and "The Nutty Professor" I & II. Miller currently stars as the over-protective father in the hit ABC Family television series "10 Things I Hate About You," which is based on the 1999 film he co-starred in with Heath Ledger and Julia Stiles. In addition, Miller frequently performs stand-up throughout the country, often opening for his longtime friend, Jerry Seinfeld. He is also the author of the best-selling book "Spoiled Rotten America," and is a frequent contributor to The Huffington Post.

MORE HENSON NEWS

• Jerry Nelson tribute at The Moving Image Museum October 27
• Jim Henson's Pajanimals debuts on NBC Kids Saturday July 7
• The New York Pops play The Muppets at Carnegie Hall April 14
• Henson announces "Sid the Science Kid: The Movie" in 3-D
• The Jim Henson Company Puppets to perform at the 2011 Grammys
• "Pioneers of Television" special to honor Jim Henson
• Classic "Henson's Place" special arrives on DVD August 3
• Frank Oz unveils tribute to the "Henson Pipes" at NBC Studios