"Dog City: The Movie" coming to DVD June 8
First-ever DVD release of the Henson comedy classic will have viewers "howling" with laughter!
Courtesy of Lionsgate
April 10, 2010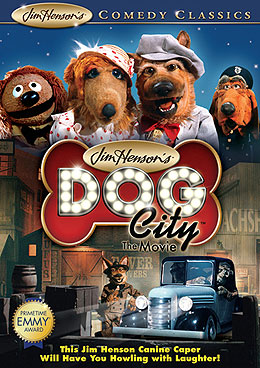 Save 27% off the regular price! Pre-order "Jim Henson's Dog City: The Movie" on DVD. By pre-ordering you're guaranteed the lowest possible price. If the cost is reduced before the release date, you'll get the additional savings automatically.
Get ready for tail-wagging, tongue-flapping fun this summer as Lionsgate Home Entertainment releases Jim Henson's Dog City: The Movie, available for the first time ever on DVD and as a digital download! As the winner of the Primetime Emmy Award for Outstanding Directing in a Variety or Music Program in 1989, this hilarious Henson comedy classic arrives in stores with a devoted fan base.
Adults who were fans of The Jim Henson Company's productions in their youth can share Jim Henson's Dog City: The Movie with their children, as the movie features both edgy humor and puppet fun brought to life as only The Jim Henson Company can. The film was so successful that it inspired a "Dog City"animated series that aired on FOX in the early 1990s. Containing special features that include original movie concept art, a behind-the-scenes image gallery, and two animated episodes from the "Dog City" series, Jim Henson's Dog City: The Movie will be available on June 8, 2010 for the suggested retail price of $14.98.
DVD SPECIAL FEATURES
Original movie concept art
Behind-the-scenes image gallery
2 animated episodes of "Dog City"
ABOUT DOG CITY
Dog City: The Movie is an Emmy award-winning Jim Henson Comedy Classic. Directed by Jim Henson, this parody of film noir gangster films takes us through the busy but dangerous town of Dog City, teeming with colorful dog puppet characters. Our hero, Ace, enters the world of bulldog gangsters and terrier molls when he inherits a saloon, "The Doghouse," from his late Uncle Harry. Unwilling to pay protection money, Ace finds himself the target of Bugsy, a bulldog bully who owns most of Dog City, and also happens to be one of the foremost proponents of senseless violence. Ace also comes nose to nose with a beautiful runaway collie named Colleen. Colleen and Ace team up to take on Bugsy and his thugs in the tumultuous, dog-eat-dog world of Dog City.


MORE HENSON NEWS

• Jerry Nelson tribute at The Moving Image Museum October 27
• Jim Henson's Pajanimals debuts on NBC Kids Saturday July 7
• The New York Pops play The Muppets at Carnegie Hall April 14
• Henson announces "Sid the Science Kid: The Movie" in 3-D
• The Jim Henson Company Puppets to perform at the 2011 Grammys
• "Pioneers of Television" special to honor Jim Henson
• Classic "Henson's Place" special arrives on DVD August 3
• Frank Oz unveils tribute to the "Henson Pipes" at NBC Studios