Santa Claus Switch screening in Beverly Hills
Henson's Santa Claus Switch from 1970 and selections from Heather Henson's Handmade Puppet Dreams will highlight a holiday screening at the Fine Arts Theater
Courtesy of The Fine Arts Theater
December 14, 2006
A rarely seen Henson special, "The Great Santa Claus Switch" and several selections from Heather Henson's "Handmade Puppet Dreams" will be viewed at a special Christmas screening this upcoming Sunday December 17 at the Beverly Hills Fine Art Theater. Tickets are $5.
THE GREAT SANTA CLAUS SWITCH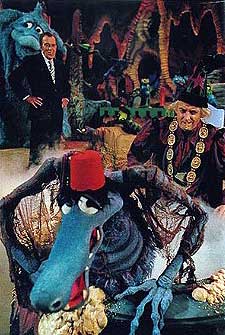 This collaboration between Jim Henson and Ed Sullivan stars Art Carney in a dual role, playing both Santa and the wicked magician who schemes to replace him. This special has only screened one time since the December 20, 1970 airing on CBS.
Conceptual designs and sketches from Santa Claus Switch will also be on display.
Jim Henson's Muppets had made many successful guest appearances on The Ed Sullivan Show and in Christmas of 1970, when Sesame Street was was beginning it's second season, Ed gave Jim Henson and the Muppets a whole hour of his show, becoming the very first Muppet Christmas TV special.
The Great Santa Claus Switch was written by Jerry Juhl, music by Joe Raposo and puppets by Don Sahlin. It was the debut of Muppeteers Richard Hunt and Fran Brill who auditioned at a workshop earlier that summer. The puppets of Thog, the Frackles and what would become The Great Gonzo made their debut in this special.
HANDMADE PUPPET DREAMS
Handmade Puppet Dreams is a touring festival of independent artists films exploring their handmade craft specifically for the camera. These films have allowed artists to build their vision, then breathe life into their dreams.
The following films will be screened on Sunday.
HARKER
Tony Giordano, Jason Murphy & Scott Shoemaker
15 min (2005)
www.harkermovie.com

This retelling of the story of Jonathan Harker was fashioned as homage to German Expressionist silent films. It recreates the mood and feel of these films by using expressionless puppets and exuding their emotions with camera work, lighting, music, and skillful puppeteer.

Tony, a performer/writer, Jason, a photographer/cinematographer, and Scott, an accomplished artist and puppet builder all reside in Orlando, Florida. By taking these strengths and putting them together, the trio has been able to form a strong team that can accomplish something that they all have in common... the need to entertain.

OLA'S BOX OF CLOVERS
Genevieve Anderson
10 min (2004)
www.puppetropolis.com

Told with rod-manipulated puppets, this simple story takes place in the interior world of an old woman after her death, and follows her granddaughter's journey to understanding her unfulfilled dreams.

Genevieve Anderson has made three short films with puppets that have played at over 75 festivals worldwide to critical acclaim. She received her Rockefeller Media Artist Grant in 2004 to develop her first feature with puppets an adaptation of Czechoslovakian novella about a book crusher.

PRELUDE # 2
Hoku Uchiyama
1:17 min (2003)
www.rosethemovie.com

Two teenagers leave a party drunk, for a frightening drive home. A visual collage of hand and shadow puppetry mixed with flesh and blood actors.

Hoku Uchiyama is a graduate of the Art Center College of Design. He's directed eight short films, two documentaries and two commercials, collectively winning over nine film festival awards world wide, including 2nd place at the Cannes Young Directors Awards for "Prelude #2".

EVERLOVING
Steve Johnson
3:36 min (2003)
www.edgefx.net

Shot in reverse at double speed, the characters were puppeteered upside down. The entire piece was filmed underwater, then the physical puppets were composed into the digital environment. Inspired by the paintings of Beksinski and the music of Moby.

Steve Johnson founded Edge FX, Inc. in 1986, bringing it to the forefront of the prosthetic and animatronic effects industry. Johnson's effects can be seen in "THE CAT IN THE HAT", "SCOOBY TOO" and "SPIDERMAN 2."

THE AMAZING, MYSTERIOUS & TRUE STORY OF MARY ANNING & HER MONSTERS
Laura Heit
8 min (2003)
www.lauraheit.com

When most children were afriad of monsters Mary sought them put. She had an eye for the unexplainable and in the end her discoveries would change more than she bargained for.

Laura Heit received her MA from Royal College of Art in London. She has recently completed a new animated film "Look for Me" commissioned by Channel 4 Television London. She has worked with Redmoon Theater (chicago), En Fuego (Chicago), and was seen in puppet festivals performing her one woman piece "The Match Box Shows"

GRAVEYARD JAMBOREE WITH MYSTERIOUS MOSE
Directed by Seamus Walsh & Mark Caballero
4 minutes (1999)
www.screen-novelties.com

Inspired by an old record by Harry Reser and his Radio All-Star Novelty Orchestra. Three techniques were used in this film including, live action puppetry, silhouette animation and stop motion animation.

Seamus Walsh & Mark Caballero have been working together since 1995 with Chris Finnegan. They formed the company, Screen Novelties. Their unique approach combines the whimsy of classic cartoons with the texture and dimensionality of puppet animation. Currently they are directing the animation for Cartoon Network's "Robot Chicken".

FINE ARTS THEATRE
8556 Wilshire Blvd - Beverly Hills 90211 - (310) 360-0455

Admission Prices:
$5.00 per person
Validated Parking at the Flynt Building - $2.00 per car
Childrens shows, no children under 3 admitted

For more info, please visit:
Indie Cinema Showcase

MORE HENSON NEWS

• Jerry Nelson tribute at The Moving Image Museum October 27
• Jim Henson's Pajanimals debuts on NBC Kids Saturday July 7
• The New York Pops play The Muppets at Carnegie Hall April 14
• Henson announces "Sid the Science Kid: The Movie" in 3-D
• The Jim Henson Company Puppets to perform at the 2011 Grammys
• "Pioneers of Television" special to honor Jim Henson
• Classic "Henson's Place" special arrives on DVD August 3
• Frank Oz unveils tribute to the "Henson Pipes" at NBC Studios