Toy Vault developing Henson Fantasy Plush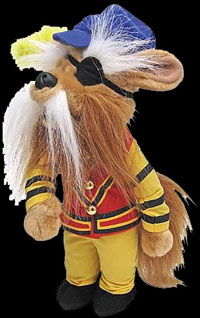 Sir Didymus from Toy Vault's Labyrinth line.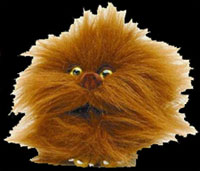 Fizzgig from Toy Vault's Dark Crystal line. Will Gelflings and Skeksis be next?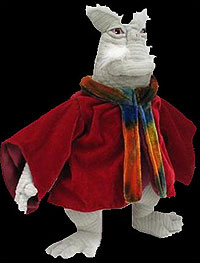 Rygel from Toy Vault's Farscape line. A "life-size" plush of Rygel will be released along with a plush of a DRD and Moya.

Lines are being developed featuring characters from Jim Henson's Dark Crystal, Labyrinth and Farscape

By Greg James
November 30, 2006

Toy Vault is preparing to release several new lines of plush dolls based on the Jim Henson Company's fantasy world productions. The company, which has officially gained the licensee to produce the collectibles based on "The Dark Crystal", "Labyrinth" and "Farscape", is planning to bring a great collection of plush collectibles to fans.

Sir Didymus is the first plush doll in the "Labyrinth" line. The 10-inch tall plush of the valiant and chivalrous knight is expected to ship by the end of the year. More "Labyrinth" plushes are expected to follow, however the exact release details and which characters have not been announced yet.

"The Dark Crystal" line will be kicked off in March 2007 with the release of Fizzgig, the courageous ad lovable little fur ball. The 6-inch plush of Fizzgig will be followed by more plush characters from "The Dark Crystal".

The "Farscape" line was recently launched with the release of Dominar Rygel XVI, the first plush Farscape character ever. The medium-sized Rygel plush stands just over a foot tall and is avalible now. A "life-size" (26-inch tall) plush of Rygel will be released soon; with a DRD plush and Moya plush to follow. Any more details on the Farscape line are not available at this time.

The Sir Didymus, Fizzgig and Rygel plushes are currently available to buy or per-order on several online retail sites.

MORE HENSON NEWS

• Jerry Nelson tribute at The Moving Image Museum October 27
• Jim Henson's Pajanimals debuts on NBC Kids Saturday July 7
• The New York Pops play The Muppets at Carnegie Hall April 14
• Henson announces "Sid the Science Kid: The Movie" in 3-D
• The Jim Henson Company Puppets to perform at the 2011 Grammys
• "Pioneers of Television" special to honor Jim Henson
• Classic "Henson's Place" special arrives on DVD August 3
• Frank Oz unveils tribute to the "Henson Pipes" at NBC Studios